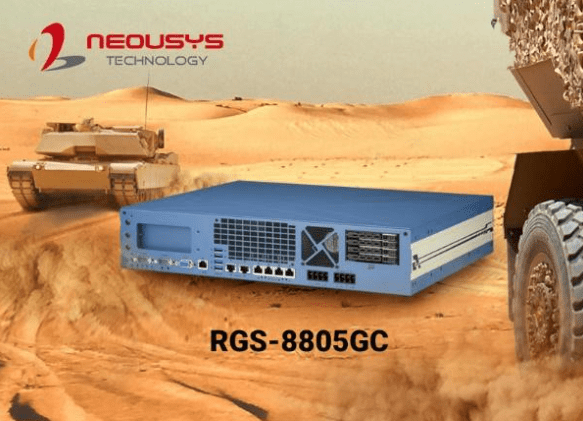 Rugged embedded computer provider Neousys Technology has unveiled its new rugged HPC server, RGS-8805GC.
Powered by the AMD EPYC 7003 series MILAN processor with up to 64-core/128-thread computing power and high-end NVIDIA RTX A6000 or A4500 GPU, it brings high-performance computing into extreme conditions with optimized size, weight and power (SWaP) for unmanned ground vehicle (UGV) applications.
RGS-8805GC incorporates from the ground up Neousys cooling design with unique compartmentalization allowing the system to operate in a wide temperature range from -25°C to 60°C. This highly effective cooling design can guarantee reliable operations for military and defense edge AI applications in the field.
It also accepts 8 to 48V wide range DC input and comes with expansion slots to add on automotive camera capture cards, LiDARs, mmWave for high-speed data transmission, and graphics cards for AI inference capabilities in unmanned systems. It enables autonomous robotics systems for a wide variety of both civilian and military applications operating in hazardous environments.
Connection wise, the front-accessible I/Os are available with screw-lock connections to ensure rugged connectivity for USB and 10G/1G cables. The system is also MIL-STD-810G certified and comes with a patented damping bracket to withstand in-vehicle conditions. It is designed to thrive in extreme environment conditions, and can provide UGVs with high-performance server computing with effective cooling to sustain 24/7 operation in the field.
In compliance with the SWaP initiative, Neousys RGS-8805GC features an AMD EPYC 7003 series server grade processor enclosed in a standard 2U 19″ rack-mount enclosure at only 350mm deep; it weighs approximately 8.6kg, making it significantly lighter than most traditional military grade computers; and it offers significant processing power and AI inference capability in a smaller footprint. It is seen as the perfect all-in-one UGV system for sensing, perception and planning.