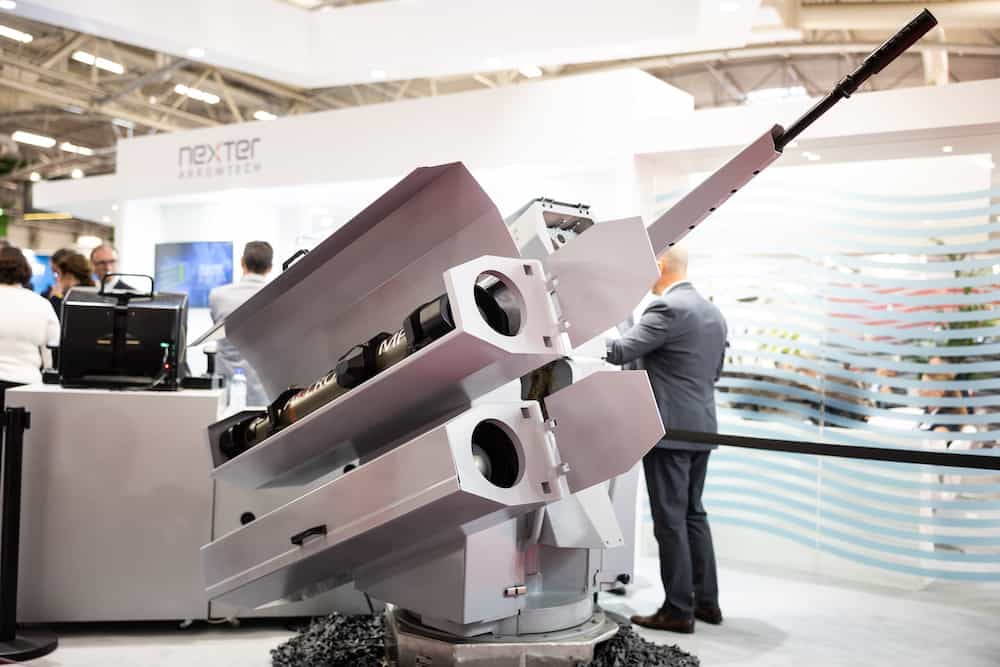 Nexter and MBDA are offering a new configuration of the NARWHAL (NAval Remote Weapon, Highly Accurate, Lightweight) Remote Controlled Weapon System (RCWS) that includes two pods of AKERON MP missiles.
This kit, presented for the first time at Euronaval 2022, consists of two AKERON MP missile pods with the associated control electronics and an operator terminal.
The NARWHAL is a remotely operated 20mm naval turret that can be integrated just as easily onto small patrol boats as onto frigates. Equipped with state-of-the-art optronics, including a day/night sight and a laser range finder, it is effective at more than 2,000 meters thanks to its 20M621 gun.
According to the companies, this new configuration allows for easy installation on any version of the NARWHAL turret, including those already in service with navies worldwide. To meet their needs and those of future customers, Nexter and MBDA engineers are working to add new capabilities and options that enhance its operational effectiveness.
The NARWHAL turret presented on the Nexter stand is paired with a manual target designator: the Short Range Pointer (SRP), designed by Hensoldt. With this easy-to-use tool, an onboard operator can quickly designate a target to the NARWHAL by pointing a laser beam.
With more than 150 test and training firings to its credit, the AKERON MP is capable of dealing with all battlefield threats in all types of environments. A naval capability is being implemented on the AKERON MP missile to facilitate the acquisition of small targets and signatures from naval platforms, including with a mast-mounted configuration, and provide these platforms with an enhanced self-defense capability in coastal environments against sea- or land-based asymmetric threats. AKERON MP offers both 'fire-and-forget' and 'man-in-the-loop' capability for engagements where there is a risk of collateral damage.
The integration of MBDA's anti-missile system on the NARWHAL turret means that the AKERON MP is now available on a new naval platform, as the system also comes in a dismounted version on a light firing post, as well as on a range of other platforms, such as armored vehicles, light vehicles, ECUME semi-rigid commando boats, fast patrol boats, or larger ships for close protection needs.