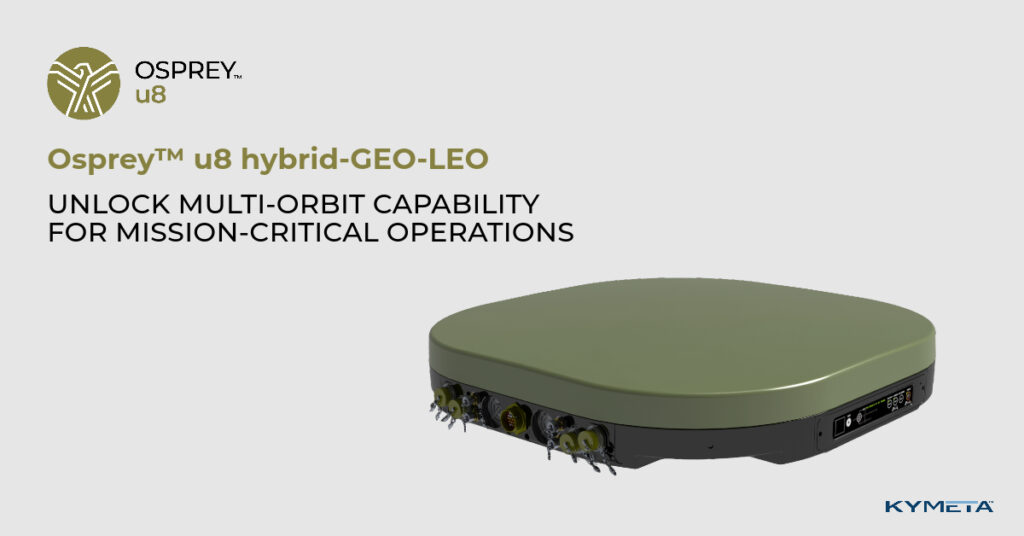 Kymeta has launched the Osprey u8 HGL, a hybrid geostationary/low Earth orbit (GEO/LEO) terminal purpose-built for military users. 
The flat-panel satellite antenna company is leveraging Eutelsat Group's (formerly OneWeb) LEO satellite network, making the Osprey u8 HGL a complete, customizable solution that can be easily mounted on a wide array of military vehicles and vessels, providing connectivity on-the-move.
This marks the first commercially available multi-orbit terminal and the first multi-orbit terminal on Eutelsat Group's LEO network. Kymeta is taking orders now, with the first shipments set to go out in early Q1 2024.
Kymeta's military-focused Osprey u8 GEO terminal was launched in 2022 and is currently in use by multiple branches of the United States Department of Defense in ongoing conflicts.
In 2023, Kymeta launched the Hawk™ u8 LEO, followed closely by the Peregrine™ u8 LEO for maritime customers in March, which have both been type approved on the LEO network, with shipments going out daily to global customers.
With the Osprey u8 HGL, Kymeta will deliver truly resilient, auto-PACE ready communications for the armed forces to meet the demands of challenging and rugged military environments.
The multi-orbit capabilities of the Osprey u8 HGL will offer even greater availability, while being durable, highly customizable, low power, low visibility, and easy to use, requiring no satcom expertise.
Walter Berger, President and Co-CEO of Kymeta, said; "More than any sector, the military demands truly reliable, flexible, and durable on-the-move communications to enable its operational and training requirements. Our new terminal delivers military customers the resilient communications they need by allowing them to easily switch between LEO and GEO multi-orbit networks, always ensuring availability and redundancy. With the collaboration of both Eutelsat and OneWeb, now Eutelsat Group, we're proud to continue our proven track record with the military to provide innovative, market-leading solutions."
Chris Moore, retired 2* RAF Officer and VP Defence & Security at Eutelsat OneWeb, added; "Each orbit has its unique strengths, so if you combine LEO and GEO together, you get the benefits of both, especially if you create a multi-layered architecture to make them work together. It's this that will prove invaluable to armed forces, with users being able to route their data via the most optimal means."
"The Kymeta Osprey u8 HGL multi-orbit on-the-move antenna is a leap forward in innovation, offering warfighters in military environments a lifeline when no other communications source might be available," said Kevin Steen, CEO of OneWeb Technologies, the U.S. proxy of Eutelsat OneWeb. "We are proud to put this innovative new LEO-GEO multi-orbit solution in the hands of our U.S. military customers, empowering them with unmatched, truly reliable and resilient global connectivity capabilities."
Find manufacturers and suppliers of Antennas for defense applications >>