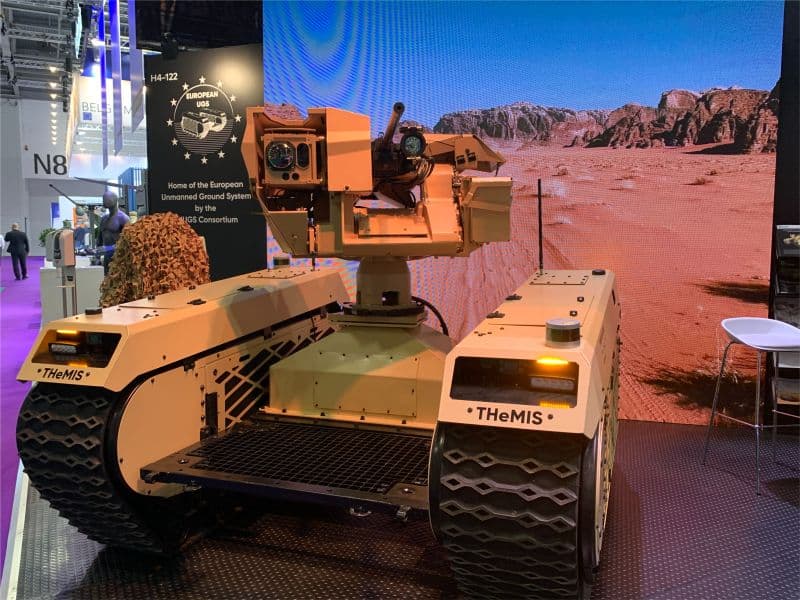 French remote weapon systems manufacturer Hornet and Europe's leading developer of robotics and autonomous systems Milrem Robotics has displayed a new THeMIS Combat unmanned ground vehicle at DSEI 2021.
The system features Milrem Robotics' THeMIS unmanned ground vehicle (UGV) with the Hornet Remote Controlled Weapon System (RCWS).
The Hornet
Originally developed for the new French 4×4 and 6×6 armoured vehicle program "Scorpion"the Hornet RCWS offers unique features for UGV applications.
Jean Boy, Managing Director of Hornet explained, "The Hornet includes a specific cleaning system for the optronics as well as the option to flip down the sensors to protect it from dirt and damage – crucial aspects for an unmanned vehicle operated from a distance. It's also equipped with a protected ammunition feed,"
THeMIS Combat UGV
The THeMIS Combat UGV provides direct fire support for manoeuvre forces, acting as a force multiplier, increasing stand-off distance, force protection and situational awareness. The THeMIS is equipped with intelligent functions such as waypoint navigation, follow-me, obstacle detection and avoidance. The intelligent functions are only used for mobility and the weapon system is controlled by a human operator.
"Combat robotics is the future of warfare that will significantly increase the capabilities and survivability of units. Milrem Robotics' THeMIS is the preferred UGV for weapon systems integrations. With the future-oriented Hornet that has several innovative features, we have created an unmanned system that allows combat units to encounter today's challenges on the battlefield more effectively," Captain (res) Jüri Pajuste, Director of Defence Research and Development at Milrem Robotics.