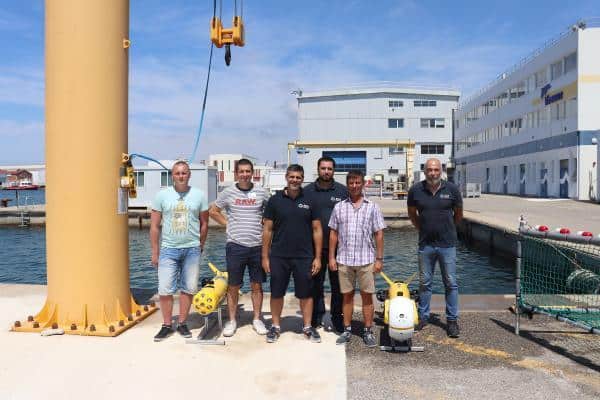 ECA Group has completed the Factory Acceptance Tests (FAT) for its modernized ship's Command and Control (C2) system and Mine Identification and Disposal Systems (MIDS) for the Latvian Navy.
These systems will now be integrated onto Latvia's Tripartite-class Mine Hunter vessels (IMANTA Class) and the Latvian Navy will become the first to be equipped with a comprehensive drone solution from ECA Group, specifically designed to be fitted during modernization programs of previous generation Mine Hunters.
ECA Group was contracted in 2020 for the modernization of the Mine Countermeasure (MCM) capacity of the three Latvian vessels. Under the contract, the traditional mine warfare system will be completely replaced by a new C2 system and a full set of drones, all designed and manufactured by ECA Group: the A18-M Autonomous Underwater Vehicle (AUV) fitted with ECA Group's UMISAS Sonar, the SEASCAN mine identification vehicle and the K-STER mine disposal system.
ECA Group is also responsible for the ship modification and the upgrade of the navigation system, composed of W-ECDIS warship electronic chart display and information system, Gaps M7 USBL positioning system and Phins C7 compact Inertial Navigation System by iXblue, as well as a new Autopilot by SIREHNA.
During the FAT, the ship's command and control with W-ECDIS and Autopilot, the sensors' functionalities and interfaces were successfully tested. The Latvian Navy also successfully performed a scenario of mine identification with the SEASCAN and firing simulation with the K-STER for mine disposal.
"The work progress on this program is fast enough. I see the big efforts from the ECA Group side to develop new sensors and systems based on our requests," said Dmitrijs Jankovs, MCM squadron upgrade program Manager. 
"So far, I am satisfied of the performances of the K-STER and the SEASCAN," added Arturs Knoks, Commander of M-08, the first ship to be modernized.
With this modernization contract, 10 K-STER mine disposal systems, two SEASCAN mine identification systems and a A18-M mid-size AUV with their common software suite will be delivered for each of the three ships to be modernized.
By upgrading the mine warfare equipment on existing vessels, ECA Group brings state-of-the-art capabilities at a cost-effective price to navies while enabling them to extend the life of their fleet already in service. This toolbox can be installed on any conventional mine countermeasures vessels or on non-dedicated ships.