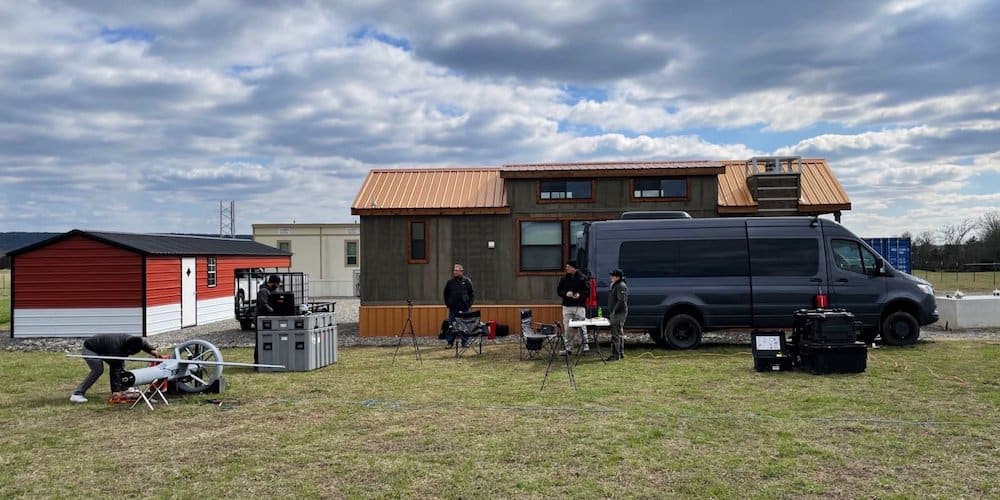 Kongsberg Geospatial has successfully conducted Phase 1 trials of the Martin UAV V-BAT on behalf of the Canadian Coast Guard at an Unmanned Aerial System (UAS) test facility operated by the Chocktaw Indian Nation of Oklahoma, in rural southeastern Oklahoma.
The Canadian Coast Guard is conducting Defense Research and Development Canada (DRDC)-funded trials of a new long-endurance UAS surveillance aircraft for possible deployment on Canadian Coast Guard Vessels. The Martin UAV V-BAT aircraft was selected for trials due to its ability to combine take off and landing from the small confines aboard a ship with the long endurance of a fixed-wing aircraft while carrying multiple sensors.
The Canadian Coast Guard held this Phase 1 demonstration virtually as the V-BAT flew at the Choctaw Nation of Oklahoma's test facility. The flights were monitored in real-time and live video of the telemetry and payload was streamed to Ottawa Canada for observation by the Canadian Coast Guard.
The flights demonstrated rapid launch and recovery, long endurance, confined space take-off and landing, and vehicle and person tracking using electro-optical and infrared cameras. The cameras were aided by an object detection and tracking capability software.
The video feeds were then incorporated into Kongsberg Geospatial Modular ISR Data Analysis and Storage (MIDAS) system. MIDAS serves as a mission intelligence coordinator to view current and historical sensor feeds of the UAS within a temporal and geospatial context to increase sensor utilization effectiveness.
"While it may seem strange to have the Canadian Coast Guard conducting drone flights over a cattle ranch in Oklahoma, this was actually a pragmatic decision, given the limitations imposed on travel by the pandemic," said Paige Cutland, Vice President of Sales and Marketing for Kongsberg Geospatial.
"The initial trials of the V-BAT were to establish flight performance characteristics that can be evaluated anywhere."
With Phase 1 concluded successfully, the next phase for the Canadian Coast Guard will see Martin UAV and Kongsberg Geospatial go to sea on a Canadian Coast Guard vessel for shipboard demonstration.