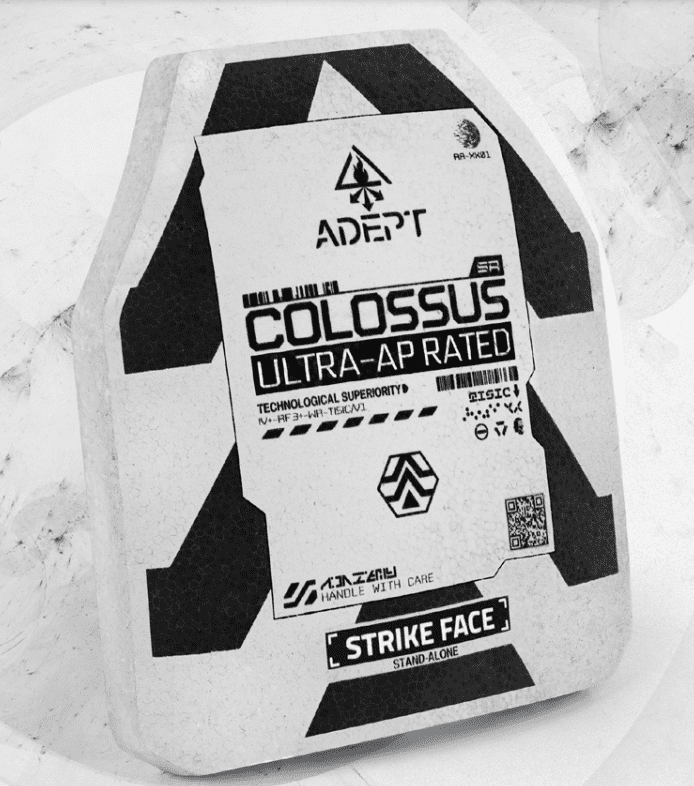 Armor system engineering firm, Adept Armor, has unveiled the Colossus Armor Plate, the company's latest evolution in ceramic armor which offers protective capabilities beyond Level IV or RF3 plates.
Weighing significantly less than the average Level IV or RF3 plate at just over six pounds, the Colossus was designed from the ground up using advanced materials to produce the strongest plate in its category.
The Colossus was built and tested to VPAM 12 with a ballistic rating for 7.62x51mm Swiss P AP (tungsten core) at 810 m/s. VPAM is the European standard for testing and measurement of ballistic materials and products.
Additionally, the Colossus is also rated for:
VPAM 11 – 7.62x51mm M993 (tungsten core) at 940 m/s
Level IV (RF3) – .30-06 AP M2 at 880 m/s
Special threats:

.62x54mmR Bf32 API at 860 m/s
56x45mm M995 at 1000 m/s
45x39mm AP at 880 m/s
Similar and lesser threats
The US Army X Threat Small Arms Protective insert plate (XSAPI) designed to VPAM 11 was developed to protect the wearer from an 'X-Threat', most likely the M993 7.62 NATO armor-piercing round. Adept Armor's new Colossus Armor Plate exceeds the protection offered by the XSAPI plates. The Colossus was specifically designed to thwart tungsten-cored small arms threats.
The multi-curve Colossus is made from advanced SiC-TiB2 ceramic; Vectran, a hi-tech liquid crystal polymer fiber known for its high-strength, high heat resistance, and low stretch capabilities; and UHMWPE composite in a thermoplastic wrap. The premium-grade thermoplastic foam on the strike-face offers drop protection, and it serves as an integrated trauma pad on the body-side. Weighing just 6.5 lbs. in the Shooter's Cut, the Colossus is only 1.13" in thickness.