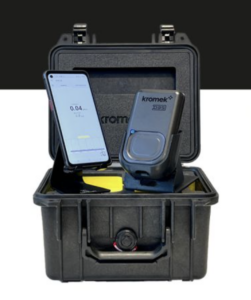 Radiation and bio-detection technology solutions developer Kromek Group has received a repeat order from a US government customer worth $800,000 for its D3S ID wearable nuclear radiation detector.
Delivery and revenue recognition is expected to occur in the Group's current financial year.
The D3S ID gamma neutron detector is a wearable Radiation Isotope Identifier (RIID) designed for first responders, armed forces, border security and other CBRN experts. Unlike most conventional RIIDs, it is a pocket-sized device that is small and light enough to be wearable and concealable.
It can recognize isotopes and neutrons in seconds and is designed to detect radiological threats like dirty bombs, radioactive contamination, smuggling of radioactive substances and radiation at the scene of an accident or terrorist attack.
"This repeat order affirms the importance of our nuclear radiation detection technology and the strength of our relationship with our US governmental customers," said Arnab Basu, CEO of Kromek Group. "We are continuing to see heightened interest in our CBRN solutions, particularly from governments, and expect this momentum to be sustained given the ongoing challenges in the geopolitical environment."
Find suppliers & manufacturers of CBRN Detection and ID Systems >>