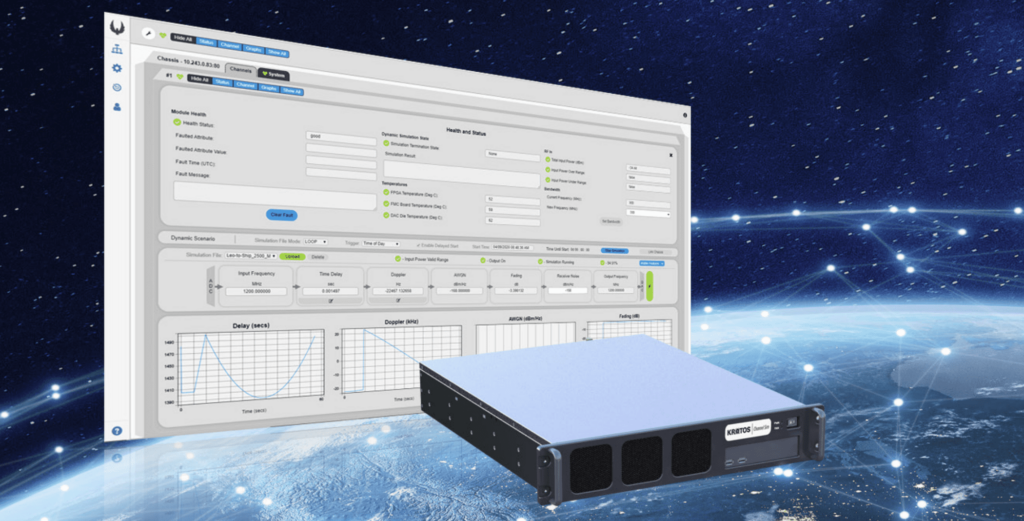 Kratos Defense & Security Solutions, Inc. has released an RF Channel Simulator with the widest bandwidth and most realistic testing to address the needs of today's highly dynamic and data intensive communication systems.
As more and more data is being transmitted with High Throughput Satellites (HTS), Low Earth Orbit (LEO) constellations, aircraft, UAVs, missiles and a range of other applications, it is more critical than ever to realistically test the devices used in these systems, especially the modems and general receiver/transmitter subsystems thoroughly to assure communication systems will operate as planned.
Kratos' wideband Channel Simulator is a hardware-in-the-loop instrument that can be inserted between modems, receivers and transmitters, or other communications devices to replicate the most challenging RF conditions without ever leaving the lab. RF engineers are able to test and simulate a wide variety of operational conditions, including multi-path, fading, phase noise, Doppler shifts, and other channel effects to facilitate ground based testing before any live operational missions occur. This in turn reduces costs and program risk by assuring reliable communications.
"We are delivering innovative technology systems for NGSO constellations, so testing and simulation is critical to our success," explains Dubi Lever, CTO, R&D Division at Gilat Satellite Networks. "We have a long history of using Kratos' Channel Simulator and the new wideband platform is working flawlessly in our lab to validate the performance of our systems for NGSO constellations prior to the deployment to customers. With a very short setup time, our engineers are able to emulate the behavior of NGSO satellites in the most challenging RF conditions on the ground and in the air."
"Leveraging the intellectual property used in Kratos' narrowband Channel Simulator that has been implemented successfully in hundreds of deployments, the wideband model offers enhanced capabilities to emulate virtually any of today's wideband RF and highly dynamic scenarios," said Dave Wilkinson, Product Manager for Kratos. "RF engineers can virtually test scenarios in the lab before live operations with advanced capabilities including 600 MHz of Instantaneous Bandwidth, the ability to simulate combined signal distortions simultaneously and to replicate the real world physics of fast changing scenarios with industry leading fidelity. Wilkinson added, "We would like to thank Gilat, our valued partner and early adopter of the wideband simulator for providing invaluable feedback."