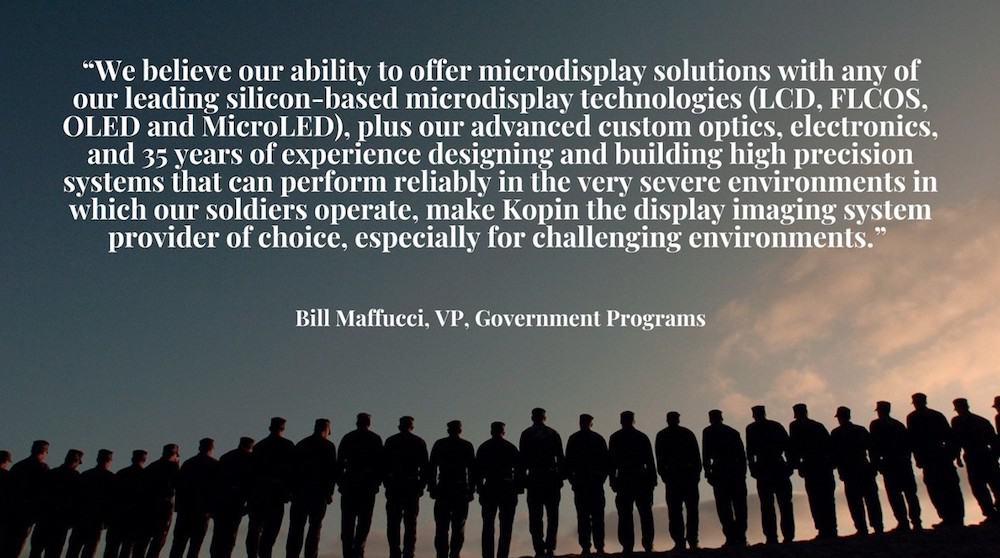 Kopin Corporation has been awarded a €2 million contract to develop a new in-vehicle display imaging system for a US prime defense contractor. This is the second in-vehicle defense development program awarded to Kopin, reflecting the company's recent efforts to enter this large market.
The new system will integrate Kopin high-brightness, high-resolution, low-power Ferroelectric Liquid Crystal On Silicon (FLCOS) microdisplay and custom optic into a heavily ruggedized custom housing to enable operational use in harsh environments.
"We are excited with this new order, which continues our focused efforts to expand our penetration into new defense market segments, in this case the very large vehicle market," said Bill Maffucci, the Company's Vice President of Government Programs. "We believe our ability to offer microdisplay solutions with any of our leading silicon-based microdisplay technologies (LCD, FLCOS, OLED and MicroLED), plus our advanced custom optics, electronics, and 35 years of experience designing and building high precision systems that can perform reliably in the very severe environments in which our soldiers operate make Kopin the display imaging system provider of choice, especially for challenging environments. Following the development and qualification process, we expect this program to transition to production and provide revenue for multiple years."
Kopin has a presence in US defense applications with soldier-centric weapon sights and targeting systems and pilot helmets for fixed and rotary wing aircraft due in part to Kopin's design and manufacturing expertise in precision displays solutions for use in extreme environments.