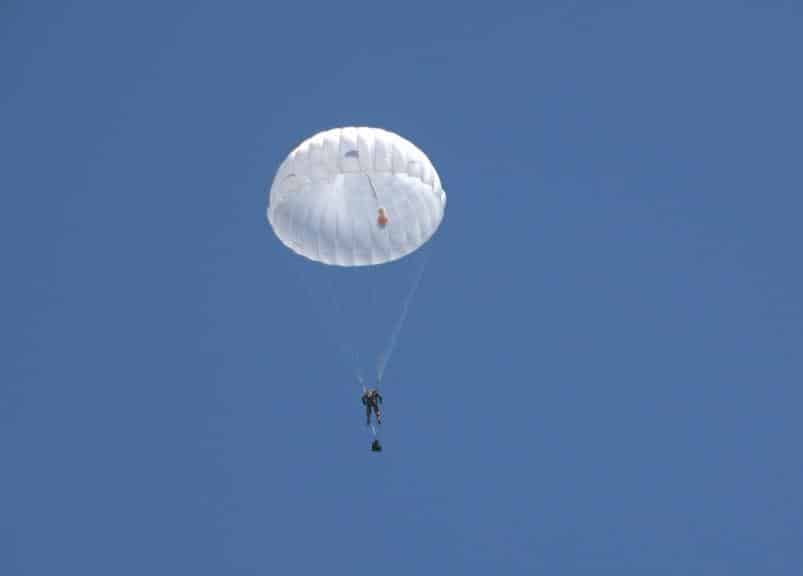 Technodinamika Holding Company of Rosteс State Corporation has delivered the Kadet-100 parachute system prototypes to the Governmental Flight Test Center of the Russian Defense Ministry for official testing. The product is designed to replace the main parachute of the Russian Army, D-10, which has been used by airborne troops for more than 20 years. 
Kadet-100 is a round canopy parachute system designed for the landing of airborne units and for training jumps. The parachute allows paratroopers to perform jumps with a full set of weapons at speeds up to 350 km/h with increased stability and high maneuverability. Steering lines are mounted on the front risers of the parachute harness, are easy to grip, and take little effort to engage. The paratrooper can perform a 360° turn in less than 12 seconds, enabling him to avoid convergence with other paratroopers, survey the surrounding area and monitor the landing site.
"In comparison with the D-10, the Kadet-100 has an increased flight mass: 160 kg against 140 kg, which will allow the paratroopers to take 20 kg more equipment," said a spokesperson for the Aviation Cluster of the Rosteс State Corporation. "The vertical descent speed will not exceed 5 m/s, and horizontal will be no more than 3.5 m/s. The minimum drop height of the new parachute is 50 meters lower than the D-10 parachute, so special units can get to their tasks faster. The new parachute will significantly increase the capabilities of the airborne assault units of the Russian Army."
The parachute system was created by Polet Ivanovo Parachute Plant of Technodinamika Holding Company.
"The completion of the official tests for the Kadet-100 is expected in the 2023, after which we will start supplying the system to the troops," said Technodinamika CEO, Igor Nasenkov.