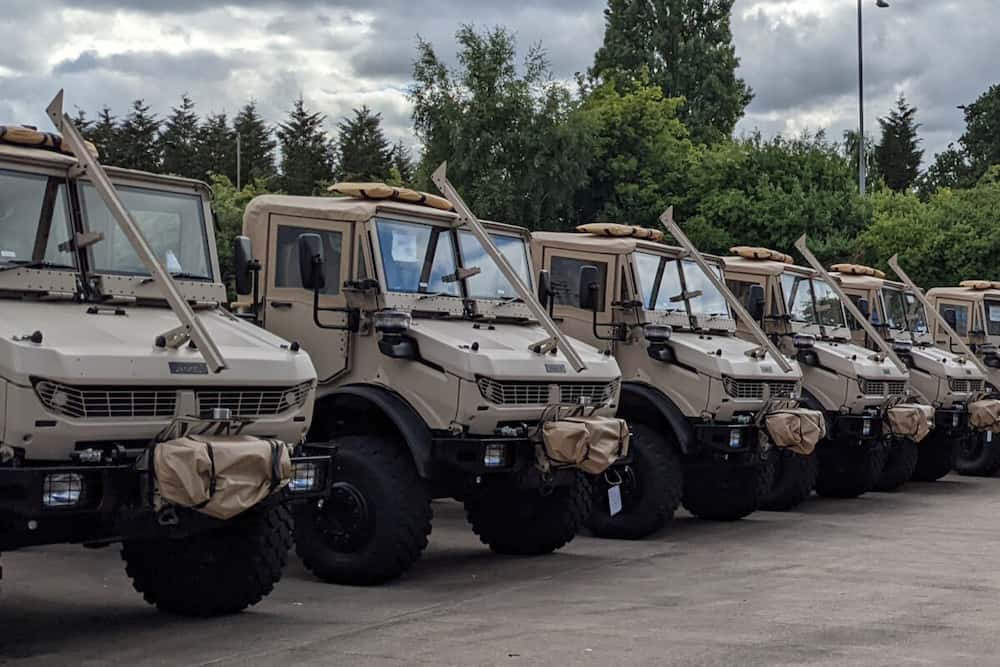 Jankel's production program for its new Light Tactical Transport Vehicle (LTTV) has moved from Low-Rate Initial Production (LRIP) to delivering vehicles at a rate of more than 15 per month.
The production plan aligns with a re-profiled delivery schedule following COVID and recent supply chain constraints.
The LTTV program, awarded to Jankel in February 2018, will deliver 199 British designed and built tactical vehicles based on the Mercedes Benz UNIMOG vehicles to the Belgian Ministry of Defence (MoD).
In September 2021, Jankel established a new production capability in the UK and in November 2021 it was announced that the program had passed Preliminary Technical Acceptance (PTA) and had formally entered production.
Following a period of LRIP that coincided with COVID working restrictions, the program has been gathering pace with vehicle 25 entering production in August. From September onwards, the production rate accelerates further with the delivery of all 199 vehicles set for completion in 2023.
Jankel's LTTV is designed to provide a modular and configurable tactical support vehicle that benefits from unique, removable mission modules that enable the vehicle to be re-roled rapidly for operational platform versatility.
The LTTV has 3 core variants for Special Operations support, including an ambulance variant. Alongside a user-configurable, fully integrated suite of military sub-systems that includes a removable ballistic protection kit, a Roll-Over-Protection-System (ROPS), weapon mounts and communications fit, the platform will provide full interoperability with the Fox fleet of tactical vehicles.
"I'm very proud indeed of our team and our UK-based supply chain for working so hard to get our LTTV program where it is today, with vehicles coming off the production line at increasing frequency and being delivered to our MoD customer," said Richard Semmens, Operations Director at Jankel. "Throughout the LRIP builds, we have integrated some industry leading production and quality systems tools which ensure our ramp up in delivery will meet the exacting requirements of the customer".
"Like anyone else in manufacturing (defense or otherwise) will know, there have been some challenges to face through BREXIT, COVID-19 and the Ukraine conflict," said Andrew Jankel, Chairman at Jankel. "Right through that period, here at Jankel we've continued to deliver and to export some great UK products and services including our LTTV program. Indeed, we're one of a very few UK defense manufacturers that has been continuously delivering and exporting throughout this turbulent period. I'd like to thank everyone who has worked with us so closely to help us succeed during this testing period including our suppliers and importantly, our customers. I'll be the first person to say it's not been easy but I'm also happy to say we're succeeding. I'd particularly like to thank our suppliers for their patience, support and agility and I look forward to delivering the rest of the LTTV program in the coming months. What we've put in place to deliver this program also puts Jankel in a great position to deliver on future UK vehicle build programs."