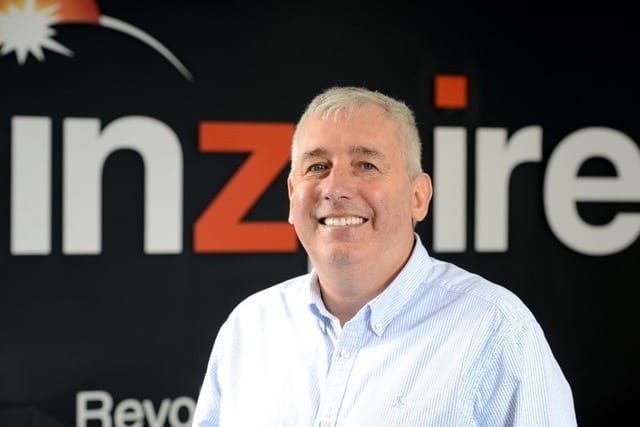 QinetiQ and Inzpire have announced the appointment of Brendan (Bren) Nolan as the new Managing Director of Inzpire Limited, effective 22 June 2022.
Bren has spent the last three years as the business development director for QinetiQ's Air and Space business where he has been responsible for all aspects of business growth, from strategy through to sales.
Prior to QinetiQ, Bren worked at Leonardo Electronics (formerly Selex) and also has small business and entrepreneurial experience, having worked for a maritime security start-up. He also has extensive military experience, having spent 18 years in the RAF with front line tours on both the Tornado GR1 and Chinook aircraft.
Bren's appointment comes following the decision of Hugh Griffiths to step down from the role of CEO to become Executive Chairman, with his last day as CEO being 21 June 2022.
Hugh is one of the original founders of Inzpire, having established the company in May 2005 alongside two ex-military colleagues. In his 17 years with Inzpire, Hugh has seen the company grow from three people to almost 300. He originally served as the company's Chairman from 2005 – 2012, before taking up the role of CEO for the next ten years.
"Inzpire has been a very successful addition to the QinetiQ family and Hugh has worked tirelessly to ensure Inzpire remains an agile, innovative company delivering value to its customers – and a company that people want to work for," said James Willis, Group MD Cyber & Information at QinetiQ. "While his move to Executive Chairman will mean he's less hands-on in the business, I know the new Managing Director, Bren Nolan, will continue what Hugh started. Bren is not just an excellent leader but someone who is more than capable of building on that culture of success, along with the rest of the Inzpire leadership team."
Hugh Griffiths, said: "I have immensely enjoyed my 10 years as Inzpire CEO, which has been a defining experience in my life. It has been incredible to watch the company's growth over the 17 years since Mark Boyes, Ian Ansell and I founded the business in a London restaurant, over a bottle of wine.
"In Bren Nolan we have found an exceptional candidate to carry Inzpire forward to even greater things. This is a very exciting time for the business, and I am delighted that I will continue to be a part of that success as I continue my work with Inzpire in the role of Executive Chairman. I leave the CEO role knowing that Inzpire is a remarkable company with tremendous prospects and incredible people. Its best days are ahead."