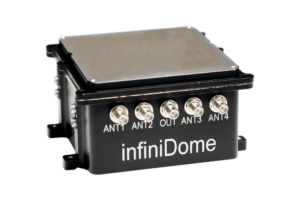 infiniDome has been announced as a finalist of the Association for Uncrewed Vehicles Systems International (AUVSI) XCELLENCE Awards in the XCELLENCE IN TECHNOLOGY category.
The company was selected from a pool of accomplished applicants as one of several finalists. Winners will be announced at XPONENTIAL 2023, taking place May 8-11 at the Colorado Convention Center in Denver, CO.
infiniDome develops GPS protection and resilient navigation solutions tailored to defend Unmanned Aerial Vehicles (UAVs) and vehicles from jamming attacks. The company's GPSdome2 protects GNSS systems from jamming, which is a growing concern for unmanned and manned critical applications. 
GPSdome2 can be used with a variety of platforms including manned ground vehicles, and unmanned air, ground, and surface vehicles, and can be integrated or retrofitted on almost any GNSS-dependent platform.
GPSdome2 offers low Size, Weight, Power, and Cost (SWaP-C) by implementing proprietary null steering algorithms using infiniDome's own chip technology. At less than 10x10x5.5cm and weighing less than 500g, GPSdome2 protects two GNSS frequencies (L1+L2 or L1+G1) from up to three directions of attack simultaneously, ensuring accurate and continuous positioning and navigation data, even in heavily challenged GNSS environments.
"GPSdome2 offers unparalleled protection against GPS jamming. Our solution provides a robust and reliable means of securing GPS dependent platforms and safeguarding against potential threats," said Omer Sharar, CEO and founder of infiniDome. "Being selected as a finalist is a great honor and a testament to the importance of our solution in the defense world today and the commercial world tomorrow and we look forward to continue to innovate and provide proportional defense solutions."
AUVSI's XCELLENCE Awards honor innovators with a demonstrated commitment to advancing autonomy, leading and promoting safe adoption of uncrewed systems and developing programs that use these technologies to save lives and improve the human condition.
"This year, XPONENTIAL is all about designing a shared plan for the future of autonomy," said Brian Wynne, President and CEO of AUVSI. "There's no better place to announce the 2023 XCELLENCE award finalists. Together, they are redefining what's possible with uncrewed and robotic technology."