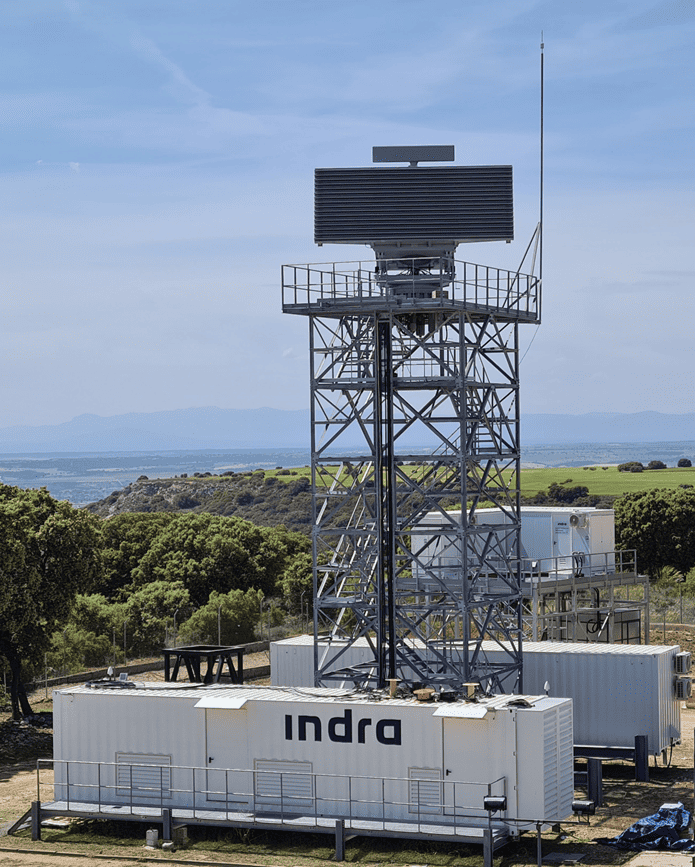 Indra is currently fitting its naval version, Lanza-N 3D, on one of the Indian Navy's destroyer ships, beginning the delivery of the 23 radars that it will provide to the Indian Navy over the next decade.
This milestone is part of the contract signed by the company in 2020 with the Indian company TATA Advanced Systems Limited (TASL), within the framework of a technology transfer program. This provides for the delivery by Indra of a total of three complete radars, plus the core elements of its system for another 20 radars, destined for ships, which TASL will complete and integrate locally. To them is added an additional reference radar to support this technology transfer during the additional maintenance period of 12 and a half years.
After designing and producing the first radar at Indra's facilities in Madrid, the system passed the factory acceptance tests (FAT) at CEAR, the Radioelectric Analysis Center of the Institute of Aerospace Technology (INTA) in November, to be subsequently shipped to India, where installation has begun once the ship has become available.
The following two radars are already in production and are expected to pass FAT tests this year.
The Lanza-N radar that is being implemented is based on the one fitted to the ship Juan Carlos I of the Spanish Navy, although the system has been adapted to the regulatory requirements of India, for example, in the environmental field to guarantee its optimum performance even in conditions of high humidity and extreme heat.
In addition, it incorporates the latest technological and operational updates incorporated by Indra to its family of Lanza radars, as well as some improvements, such as greater power for the use of long-range mode or remote monitoring of the pressurization system.
This project confirms the export potential of the Lanza-N radar, a high-tech Spanish solution for surface ships, designed as a long-range, modular, solid-state pulsed tactical radar, with all the equipment associated with the Lanza-N fully integrated for a naval operation.
The primary function of radar is the detection of aircraft within the instrumented coverage volume, even in adverse conditions. It also includes the integration of a Secondary Surveillance Radar (IFF/SSR).
Indra has also signed a collaboration agreement with Indian company, Centum Electronics, to present a joint proposal to the Indian Space Agency (ISRO) to manufacture a radar for observing and tracking objects in space with which to protect the country's space assets. The agreement is aligned with the "Make India" strategy of the country's government, which supports the formation of this type of strategic alliances between local companies and leading companies.
Find Naval Radar manufacturers and suppliers of maritime surveillance radar for military and naval applications >>