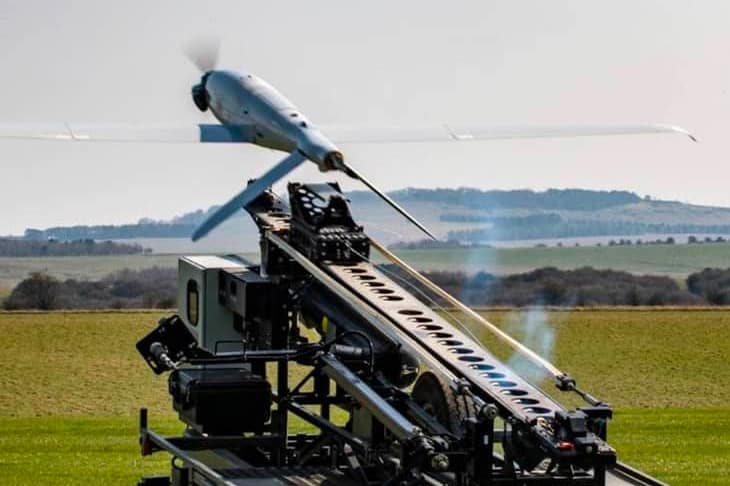 Elbit Systems UK has completed a series of demonstrations of its Skylark 3 Hybrid Unmanned Aerial Vehicle (UAV) at RAF Upavon in Wiltshire in support of the Royal Air Force (RAF)'s Rapid Capabilities Office (RCO) future concept development program.
The Skylark 3 Hybrid is the latest in Elbit Systems' Skylark family of UAVs and represents the company's contribution towards helping the UK Ministry of Defense (MoD) explore ways of meeting its net-zero ambitions.
The Skylark 3 Hybrid is a field-deployed tactical Intelligence, Surveillance, Target Acquisition and Reconnaissance (ISTAR) UAV, optimized for either dismounted or vehicle-based operation, and combines two separate propulsion systems to deliver endurance of up to 18 hours. It uses thrust from both engines to launch and reach a certain altitude, at which only one engine is required for sustained flight.
The trials were conducted in order for the RAF to assess the system's performance in a number of criteria as part of the selection of vehicles for the next phase of its programmed activity. The trials were delivered in co-operation with the Civil Aviation Authority (CAA) in order to obtain clearance to operate in civil airspace.
"Elbit Systems UK has extensive experience in delivering best-in-class UAV solutions, and these trials highlight that pedigree," said Martin Fausset, CEO of Elbit Systems UK. "The successful demonstration of the Skylark 3 Hybrid is indicative of our drive to support the RAF in realizing its ambitions for future capabilities, and to provide an environmentally responsible and energy-efficient method of maximizing the Skylark's endurance."