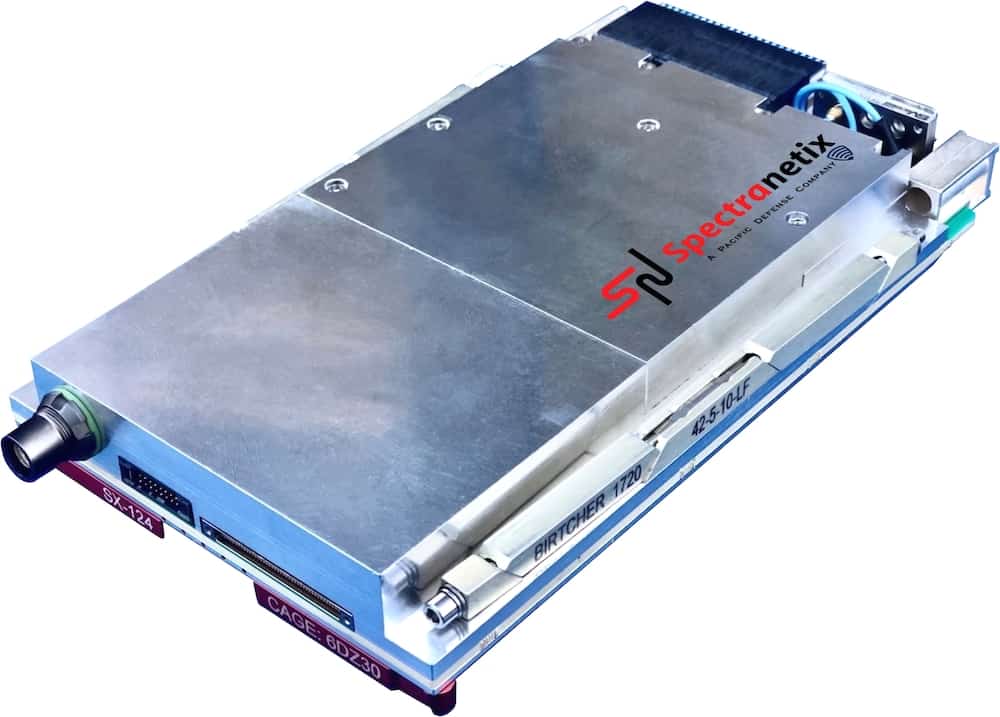 Spectranetix, Inc. has introduced the new SX-124, ruggedized 3U OpenVPX high-performance Position, Navigation and Timing (PNT) solution, which has the ability to provide timing and positioning information in a GPS-denied environment through sensor fusion.
The SX‑124 switch is designed for next-generation cyber / Electronic Warfare (EW) / Signals Intelligence (SIGINT) / communications / BMS and other highly integrated systems with a requirement for the U.S. Army's C5ISR Modular Open Suite of Standards (CMOSS) and alignment with The Open Group Sensor Open Systems Architecture (SOSA) Technical Standard.
The SX-124 can accept external resources or use its onboard Global Navigation Satellite System (GNSS) receivers as reference inputs for timing and position data. The position data can be fused with internal and external Inertial Measurement Units (IMU). It distributes eleven 100 MHz outputs and eleven 1PPS outputs in a phase coherent manner. SX-124 provides timing and position holdover from an internal Chip Scale Atomic Clock (CSAC) and IMU. There is also an inbuilt time of the day clock to provide accurate network time stamps on system startup without GPS availability.
The SX-124 also provides enhanced location information and can be connected to an external IMU as well as a Controlled Reception Pattern Antenna (CPRA). The SX-124 supports the standard VICTORY shared PNT services from an inbuilt GNSS timing receiver with an optional inbuilt M-Code GB-GRAM receiver, CSAC, and a barometer provided altitude information.
With an ability for a future expansion to support Over-The-Air Rekeying (OTAR), external Fiber Optic Gyroscope (FOG), alternative navigation, and additional GNSS systems such as Galileo, the SX-124 becomes a unique offering in the market to support the need of the defense community for a high-performance Assured PNT (A-PNT) solution in the 3U VPX form factor and aligned to the latest open set of standards.
"Reliable situational awareness and cooperative, networked maneuvers demand Assured PNT capability," said Daniel Kilfoyle, CTO of Pacific Defense.
"Our A-PNT solution embraces the pntOS open sensor fusion framework and supports multiple sensor connections including GNSS receiver, GB-GRAM, IMU, FOG, CRPA, and a 2-channel software defined RF receiver for added flexibility. Combined with exquisite timing and frequency performance and CMOSS alignment, this PNT card is yet another example of our commitment to CMOSS and SOSA."