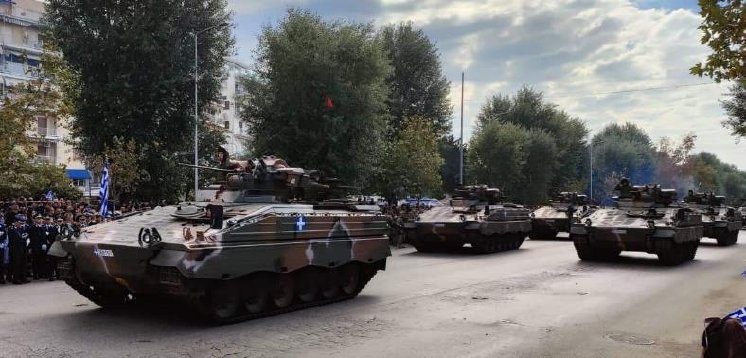 Rheinmetall has completed the delivery of the first batch of Marder 1A3 Infantry Fighting Vehicles (IFVs) to Greece during a Hellenic Armed Forces national holiday parade on 28 October 2022 in Thessaloniki.
The IFVs were delivered to Greece as part of an international backfill activity commissioned by the German government, in cooperation with its European neighbors and NATO partners, to support Ukraine in its efforts against the Russian invasion. NATO partners hand over equipment from former Soviet production to the Ukraine and receive available systems from Western production in return.
In exchange for the new Marder 1A3 vehicles, the Hellenic Armed Forces has committed to deliver its Soviet design IFVs and other military equipment to support Ukraine.
In addition to the delivery of the IFVs, an ammunition package, an integrated service package including training services and a spare parts package will also be provided by the Bundeswehr and Rheinmetall. Deliveries should be completed by the end of 2023.
These provided vehicles are overhauled Marder 1A3 from former Bundeswehr stocks. They have been repaired at Rheinmetall Landsysteme GmbH at their own expense since spring 2022 at the Unterlüß site so that they are ready for immediate use. The first vehicles were loaded on October 11 at the Rheinmetall site in Unterlüß and transported to Greece.
According to Rheinmetall, the Marder, which was developed for the German Armed Forces and is still in use, is one of the most proven weapon systems of its kind in the world. The vehicle was modernized several times in the course of its use to increase its combat value.