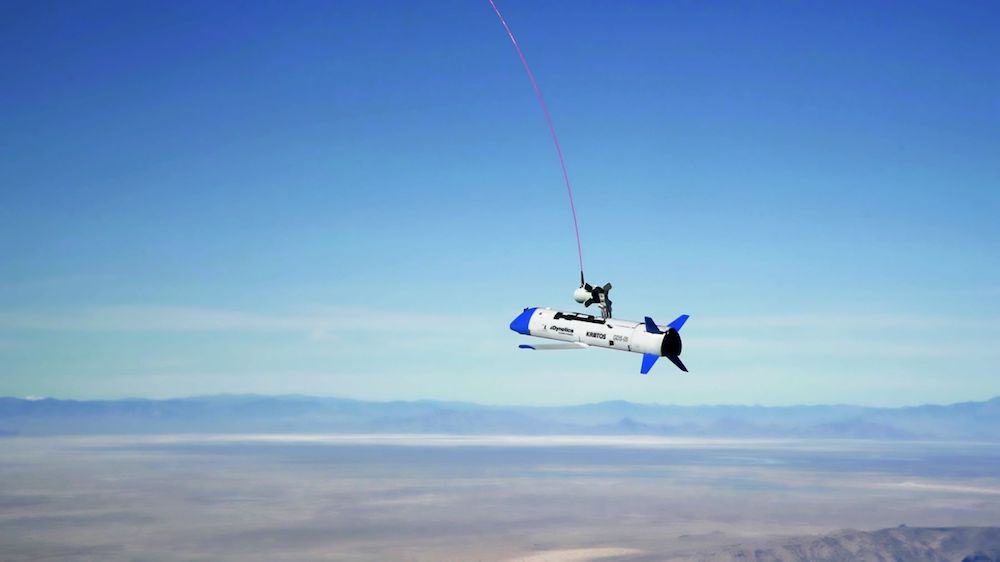 Dynetics has achieved a new milestone in unmanned aviation by successfully launching and retrieving an X-61A Gremlins Unmanned Aerial Vehicle (UAV) during the program's fourth flight test event. The Defense Advanced Research Projects Agency (DARPA)'s Tactical Technology Office manages the Gremlins program.
As part of the fourth test series, the Gremlins Demonstration System flew three Gremlin Air Vehicles (GAVs), previously flown in 2020, to conduct four individual flight sorties for a combined 6.7 hours of flight, including the 1.4-hour airborne recovery mission. The testing pace required a quick-turn refurbishment for one of the GAVs that took approximately 24 hours to complete.
"The Dynetics Gremlins team has accomplished an incredible engineering feat that we believe will ultimately have a significant impact on our country's military capabilities. We have demonstrated the feasibility for an aircraft to launch and perform airborne recovery of a reusable UAS," said Tim Keeter, Dynetics Gremlins program manager.
"In less than five years, we have developed novel system concepts, constructed and validated high fidelity simulation models, designed and manufactured the demonstration system, performed extensive subsystem and integrated systems in our laboratories and conducted multiple flight test events to learn and refine what is needed to safely capture a highly-capable autonomous X-plane onto a manned cargo aircraft."
Dynetics built five X-61As and has flown nine sorties totaling 18 hours of total flight time. During this test series, one GAV was lost due to a power issue, where root cause was identified, confirmed and successfully implemented. Three of the original five units are available for future activities.
Another key aspect of the Gremlins Demonstration System is the roll-on /roll-off Recovery System, which includes a stabilized towed docking device, an all-electric retrieval arm assembly, a mission control console which provides the ability for a single operator to control up to four X-61As and the ability to securely stow four recovered GAVs in flight. Installation and check out of the Recovery System can be performed in under 4 hours with a removal time of about 2 hours.
"Each time we flew, we collected critical data and gained valuable insights we used to refine the system for the next series of tests, which ultimately resulted in a successful fully autonomous recovery. As excited as we all are about this important program milestone, we are not finished," Keeter added. 
"We are already reviewing our test data and assessing the next steps for this program with DARPA as well as other interested parties. This, of course, points to a second major program objective for Gremlins: multiple-GAV recoveries at operationally-relevant rates to demonstrate that airborne recovery isn't just possible – it's repeatable, reliable, and expandable to swarms of systems."