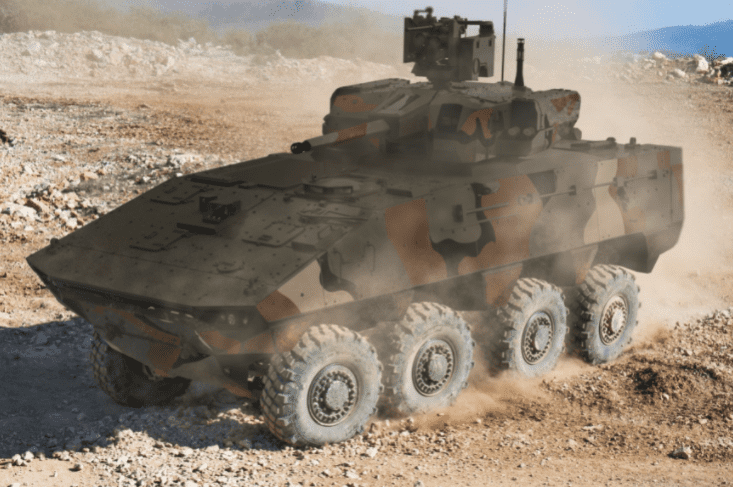 Nexter has signed a strategic partnership with Hellenic Defence Systems (HDS) to meet the Greek Army's requirement for modernized Infantry Fighting Vehicles (IFVs), offering its IFV named PHILOCTETES.
By joining forces with HDS, a state-owned company specialized in the design, development and production of weapon and missile systems, and ammunition, Nexter is offering a combat system that contributes to the strengthening of the Franco-Greek relationship in the field of Defense.
Named after the mythological hero of the Trojan War, the PHILOCTETES infantry combat system is a VBCI MkII, in its infantry combat vehicle version, equipped with a T40 turret. The VBCI is an 8×8, 32-tonne vehicle that is highly modular thanks to its various versions (armored personnel carrier, command post, 120mm mortar, medevac and vehicle recovery), capable of carrying a 13-tonne payload, and engaged in all the French army's major operation theaters.
PHILOCTETES has a reinforced motorization thanks to a new 600hp engine which ensures very high tactical, strategic and operational mobility. The T40 turret is remotely operated and equipped with the 40mm CTA gun and a MBDA medium range missile launcher (MMP). The 40 CTA fires the various 40mm telescoped munitions that represent the future of medium-caliber munitions: high explosive, airburst, and arrow shells capable of piercing up to 140mm of armored steel. As a result, the latest generation weaponry of the T40 turret offers the PHILOCTETES a response capacity to all modern land-based threats on the battlefield.