General Dynamics European Land Systems (GDELS) is premiering two new vehicles at this year's Eurosatory event in Paris, as well as presenting its latest military vehicle technology.
The DURO-e 4X4, the first all-electric, all-terrain military vehicle, and the Airborne 4×4 Light Tactical MERLIN, are being presented at the GDELS stand E851 in Hall 5.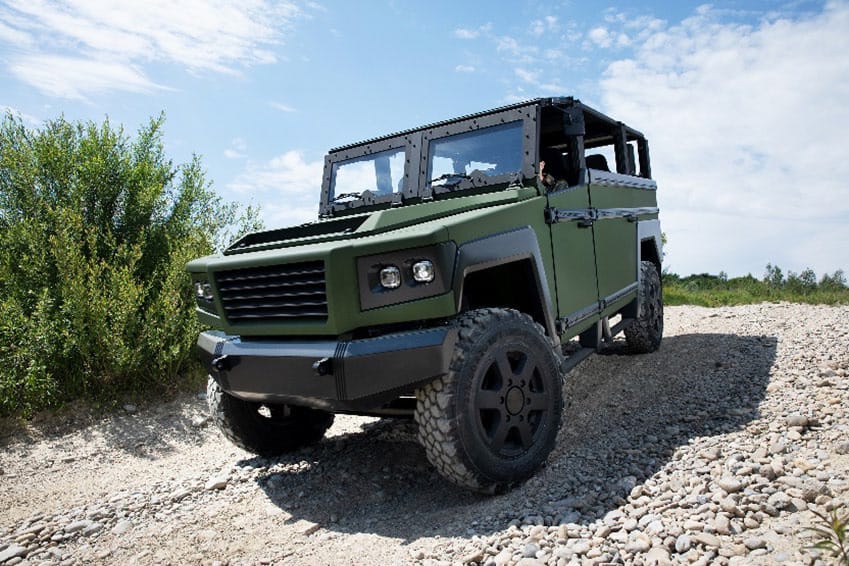 The new MERLIN 4×4 Light Tactical Vehicle
The newest member of GDELS' vehicles fleet, the MERLIN Light Tactical Vehicle (LTV) responds to the latest operational requirements of modern Airborne, Special Forces and Light Infantry Forces. 
The LTV MERLIN is a durable, compact, light and robust vehicle platform which provides multi-role, payload potential and protection for its military users. MERLIN provides unmatched payload range and user space in its 4×4 wheeled vehicle configuration. The compact 4×4 vehicle fits inside CH-47 or CH-53 transport helicopters and can accommodate up to 10 soldiers.
The unique driveline and suspension technology of the vehicle is a derivate of GDELS' proven and in-service DURO / EAGLE 4×4 chassis. Powered by a modern diesel engine, the company claims its MERLIN vehicle provides superior agility, maneuverability and cross-country mobility. Due to the flexibility and versatility of the vehicle body design, the MERLIN can be configured in different variants for personnel transport, ambulance, logistic and combat missions.
DURO-e 4×4 – GDELS' First All-Electric All-Terrain Vehicle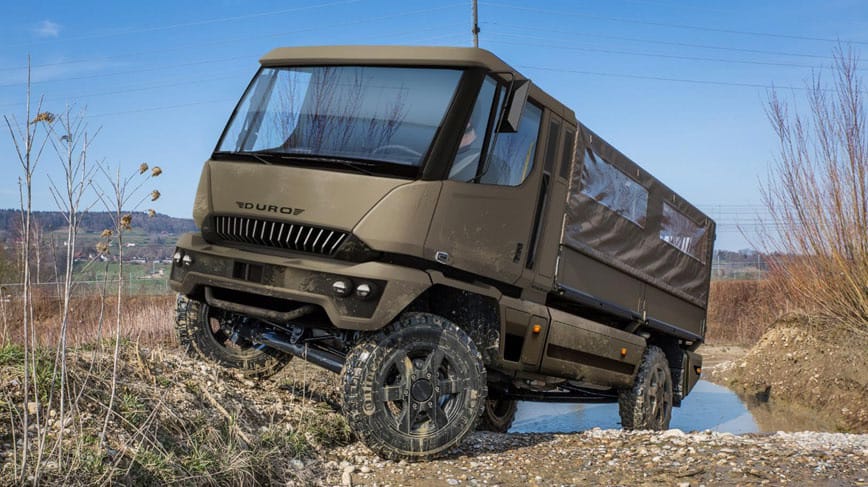 The DURO (DUrable and RObust) is a highly mobile all-terrain military tactical vehicle which has been proven in use with the Swiss Army. The company has said that the DURO drives safely and reliably even in the most difficult terrain. With its uniquely designed modular construction, the DURO can be modified in many configurations to accommodate a range of applications in a single vehicle from troop transporter, command and control, logistics to ambulance vehicle.
GDELS, in cooperation with MAGNA – Engineering Center Steyr and Phi-Power, selected the DURO all-terrain vehicle to insert newest technologies like hybridization, electrification, on-board power generation and drive technologies needed for MUM-T capabilities with automated/autonomous operation features to create the DURO-e 4×4.
The DURO-e 4×4 will be presented for the first time at Eurosatory 2022 and includes all new basic technologies that customers may need in the near future.
DURO-e main features and operational advantages:
Digital vehicle architecture according to NGVA standard;
Variable powertrain, starting with a state-of-the-art diesel engine from EURO 3 up to EURO 6, a pure electric powertrain in battery electric or fuel cell electric version;
Silent drive, boost and extended silent watch capabilities;
CO2 neutral and economic operation for daily military services;
Low heat and noise signature;
High energy efficiency and self-sufficient energy supply.