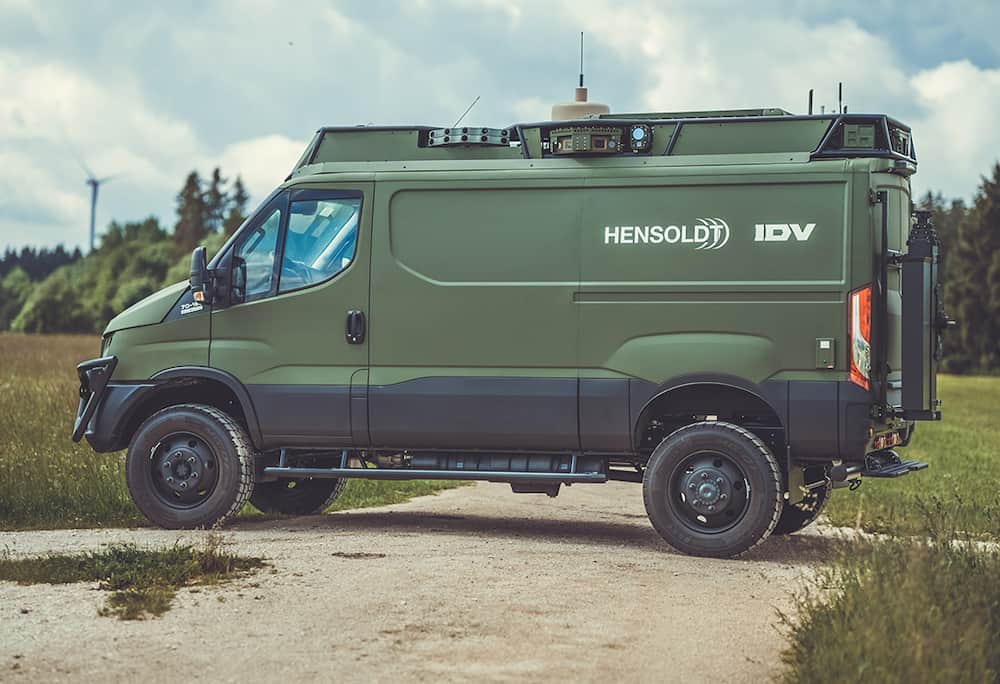 HENSOLDT and Iveco Defence Vehicles (IDV) are presenting the Military Utility Vehicle (MUV) concept demonstrator at Eurosatory 2022 in Paris, 13-17 June. The vehicle offers modularity, precision and speed to ensure the best possible situational awareness.
For the first time, the MUV will present a modular sensor fusion platform that can be used for military surveillance and reconnaissance as well as for self-protection and convoy protection.
The basis of the MUV concept demonstrator is an all-terrain 7-ton-chassis from IDV with a maximum payload of 4 tons. It incorporates a sensor suite from HENSOLDT, with the SETAS, MUSS, Radio Direction Finder and S3 MIMO-Radar systems. All systems are connected by the Central Information Processing Unit (CIPU), which forms the backbone of the sensor suite.
The system architecture provides automatic information processing that supports the user in decision-making and ensures operational readiness under all conditions. Through the sensor data network, HENSOLDT creates complete situational awareness with its Sensor Suite. Potential customers can configure their personal suite according to their needs through the modular structure of the individual systems.
The two companies claim that the advantage of the MUV concept demonstrator lies in the combination of the networked HENSOLDT sensor suite with the highly mobile, reliable and versatile vehicular platform from IDV. With the vehicle, there is now a turnkey solution that combines adaptive detection and classification capability with the features of a vehicle specifically designed for a wide range of tasks.
"The cooperation with IDV in the field of MUV concept demonstrator is directly related to our portfolio expansion. Russia's war against Ukraine shows how important networked high-performance sensor technology and optical systems are for equipping our armed forces in line with the times," said Andreas Hülle Head of the Optronics & Landsolutions Division and Managing Director of HENSOLDT Optronics GmbH.