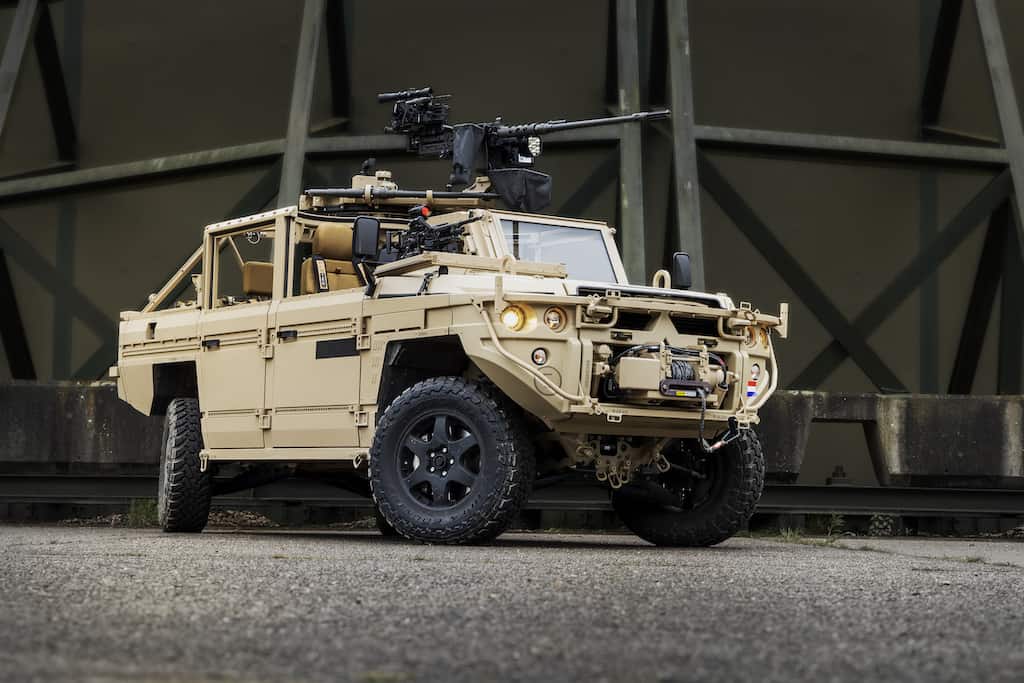 Defenture has handed over its first GRF test vehicle to COMMIT, where it will be tested and equipped with communication equipment before delivery to the 11 Air Mobile Brigade.
The Dutch Defense Materiel Organization (DMO), now COMMIT (Material and IT Command), awarded Defenture the contract for the delivery of 41 air transportable tactical vehicles (ATTVs) in 2022.
These Defenture GRF vehicles (known as Vector to the Dutch Ministry of Defense) are intended for the 11 Air Mobile Brigade (11LMB).
Defenture is continuing to assemble the remaining 40 vehicles according to the contract, having been supplying light tactical and air transportable vehicles to the Dutch Ministry of Defense for almost 10 years.
The Dutch Ministry of Defense currently has 75 GRF vehicles in its fleet, mainly with the Special Operation Forces (Korps Commandotroepen).
Defenture aims to make the GRF the new benchmark within the segment of light tactical and air transportable mobile platforms, and it has been the mobile platform of choice for various international Special Operations Forces and Air Mobile Brigades.
The vehicle was developed with the Korps Commandotroepen and other institutions. They have been in operational use for several years, and global demand for the vehicle has grown tremendously.
COMMIT also awarded Defenture a contract for the development, production and maintenance of approximately 300 Military Diesel Quads, the Scorpion, for Dutch Ministry of Defence Defense units such as the Special Operation Forces and Royal Marines.
In addition, Defenture is at an advanced stage with the development and delivery of a larger type of vehicle with a payload of approximately 4000 kg, the Mammoth. This vehicle is being developed specifically for and in cooperation with the German Kommando Speziale Kräfte (KSK).
The company believes that military-specific modular vehicle systems, based on an identical platform such as the Defenture GRF and Mammoth, are the future. The vehicles have been developed in close collaboration with users and well-known knowledge institutes, ensuring uniformity and interoperability between the systems for countries that have Defenture vehicles in service. The armed forces of both Germany and Switzerland are now using various versions and configurations from the Defenture portfolio.
Henk van der Scheer, CEO Defenture, said; "Defenture has invested for years in creating a new benchmark in the light tactical segment. Our vehicles increasingly contribute to global safety and freedom. With the Defenture platforms we guarantee that those who protect us can carry out their missions as secure as possible and return safely from the most extreme circumstances. Our mission is to make the impossible possible every day."
Find suppliers and manufacturers of Light Armored Vehicles >>