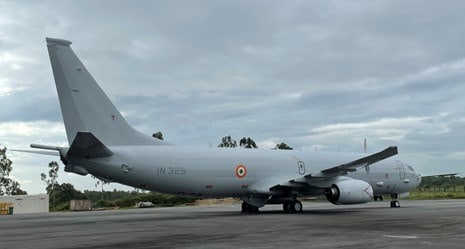 Air Works has delivered the last of six P-8I maritime patrol aircraft to Boeing and the Indian Navy after completing Phase 32 maintenance checks.
The heavy maintenance of these aircraft was successfully completed at the Air Works facility at Hosur, Tamil Nadu.
The successful handover of the sixth P-8I highlights Air Works' proficiency in offering capable and reliable support to defense platforms, and represents a major milestone in the nation's ambition to become self-reliant in maintaining its various defense and aerospace assets, by undertaking complex tasks indigenously, especially on platforms of strategic importance.
Air Works signed a strategic collaboration with Boeing in 2021 for the Maintenance, Repair, and Overhaul (MRO) of two critical Boeing defense platforms in India – the P-8I operated by the Indian Navy and the VIP transport fleet operated by the Indian Air Force.
Under this collaboration, three P-8Is had already undergone maintenance at Air Works and three more were simultaneously inducted in early 2022, increasing the complexity of the entire project.
"We are grateful to both Boeing and the Indian Navy for their trust in Air Works to deliver on such a unique and mission-critical project for the very first time in the country," said Mr. D Anand Bhaskar, Managing Director & CEO, Air Works Group. "Not only has every successful inspection increased our confidence of managing such intricate and specialized projects on behalf of our defense forces, but the fact that we have been able to value add with our ingenuity and decades-long experience to enhance the quality of maintenance of these premium assets, has particularly boosted our motivation and self-assurance. This is an incredibly proud moment for the everyone at Air Works, especially the P-8I project team – who have transformed their ardent passion into a brilliant outcome, and we look forward to expanding our collaboration horizon."
"One of the key learnings of this project has been that aviation & aerospace OEMs must take a leaf from Boeing's BIRDS hub initiative and partner with domestic MROs like Air Works, to successfully realize the Government's Make-in-India program, to scale up local maintenance capabilities and ensure that more and more maintenance assignments – irrespective of their complexity or their nature – civil or defense – are undertaken within the country, for cost effectiveness and to create a strategic depth," Bhaskar added.
According to Air Works, its partnership with Boeing is well positioned to further strengthen as the P-8I inspection program expands in terms of both scale and scope.
"Ensuring mission-readiness for our customers and providing them seamless services and support on our platforms is imperative for Boeing. Having completed heavy maintenance checks for six P-8Is for the Indian Navy by our partner Air Works is testimony to our joint and long-standing commitment towards bolstering MRO capabilities in the country," said Salil Gupte, President, Boeing India. "We have always supported the development of indigenous aerospace and defense capabilities in India, and through the years, invested in partnerships within the Indian aerospace ecosystem in MRO, services and sustainment, as much as in manufacturing, R&D and innovation, and talent."
The P-8I is an aircraft designed for long-range Anti-Submarine Warfare (ASW), Anti-Surface Warfare (ASuW), and Intelligence, Surveillance and Reconnaissance (ISR) missions. Built to deliver the highest levels of quality, reliability, and operability, the aircraft is defined by a unique combination of state-of-the-art sensors, proven weapons systems, and a globally recognized platform. Its induction into the Indian Navy in 2013 is regarded as a game changer for India's maritime capabilities.