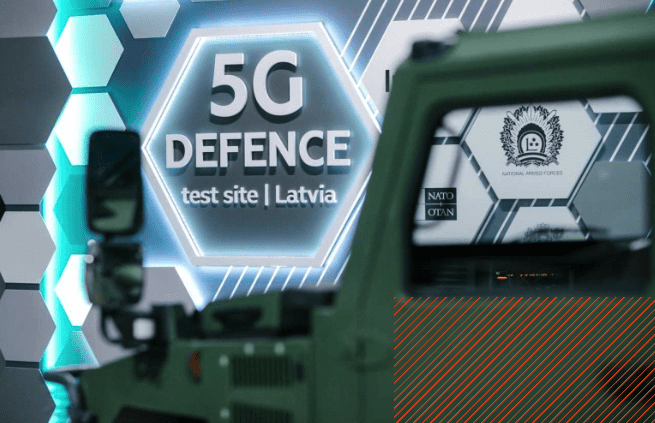 Europe's first 5G defense testbed, located in Latvia, has been supplemented by two new standalone 5G networks, built by Nokia and Ericsson.
According to LMT Innovations, who originally launched the testbed in collaboration with the Latvian National Armed Forces and Ministry of Defence in November 2020, this will make it possible to test defense innovations on a variety of networks. 
The testbed has become a favored testing ground for defense innovation thanks to the 5G capabilities, and a combination of key geographic factors, including the proximity to a defense training area, military camp, air force base, and coastline. The site is open to NATO allies to jointly develop, test, and demonstrate 5G application in the defense industry.
"5G networks promise a wide range of technological data delivery opportunities, which can significantly impact many industries, including the civil and defense sectors," said Armands Meirāns, Innovation Lead at LMT. "To make them a reality, a strong collaboration must be established between 5G network infrastructure providers, mobile operators, user equipment manufacturers, use case developers, and end clients. We are thrilled that we are able to host all of the above in the development of Latvia's 5G military testbed. We are equally thrilled to have the world's leading 5G network infrastructure providers – Nokia and Ericsson – participate in our R&D activities."
LMT believes that the unique combination of factors at the Ādaži testbed makes it possible to test a wide variety of next-generation defense applications. It has been the site of multinational force training, experiments, and demonstrations, including with NATO, the US Department of Defence, the European Defence Fund, and the European Defence Industrial Development Programme (EDIDP). Previous demonstrations include testing mission management platforms, unmanned terrestrial vehicles, and more.
The implementation of two additional standalone 5G networks is the next step in developing the functionality of the testbed. This will allow for the centralized testing of relevant innovations on various networks, confirming the compatibility of networks and accelerating field implementation.
"5G has a key role to play in accelerating the digital transformation of the defense industry and in driving operational leadership for armed forces," said Philippe Agard, Head of Nokia's Defense Business. "Implementing foundational 5G technology in Latvia's world class testbed will help fast-track military innovations by testing them in this real-world, collaborative environment. We are delighted to support LMT in this initiative with our private 5G stand-alone network to advance next-generation defense applications."
Applications that are slated for testing include remote AR/VR defense personnel training, command and control, and various maintenance activities with remote specialist participation.
"5G is a critical and versatile civil technology that is expanding into the defense market as increased data speed, reduced latency, and improved reliability of data transfer opens for major innovations and new operational capabilities in the defense space compared to existing technologies," said Manuel Ruiz, Head of Mission Critical Networks at Ericsson. "Together with LMT we look forward to contributing to these testbeds in Latvia with our innovation capabilities and our technology expertise in 5G networks."
With the implementation of these two new standalone networks, the Ādaži testbed reinforces its position a leading 5G testbed for defense applications. It has taken part in various European R&D projects, including iMUGS, Sparta, 5G COMPAD, FAMOUS2, Comp4Drones, 5G Routes, and more.