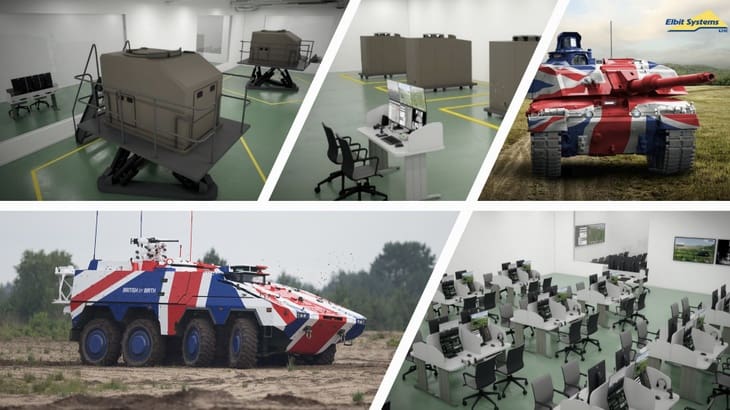 Elbit Systems UK has been awarded UK Ministry of Defence (MoD) contract to provide, maintain and operate the Ground Manoeuvre Synthetic Trainer system (GMST) for the Boxer armored vehicles and Challenger 3 tanks under Project Vulcan.
The initial phase of delivery of Elbit Systems UK's systems will support early arrivals of the British Army's new Mechanized Infantry Vehicle – Boxer.
The program will include high-fidelity driver trainers and cabins for turret and armament variants backed up by a full digital, training management system.
Elbit Systems UK's open architecture and common digital systems support the delivery of an agile, interchangeable platform capability. The simulators will be networked to allow soldiers to train simultaneously in different formations, vehicles and locations. It can also be adapted to meet the training needs of all future armored vehicles for the army.
Martin Fausset, CEO of Elbit Systems UK, said: "Elbit Systems UK is delighted to have been selected to provide the British Army with such an important project. The training of armored vehicle crews is paramount to their operational effectiveness and safety, and we take great pride in the trust the UK MoD have placed in us to deliver this contract. Elbit Systems' innovative training capabilities are already deployed extensively across the globe. We pride ourselves on being able to use our extensive British footprint and supply chain to adapt Elbit Systems' global solutions for the specific needs of UK Armed Forces. Through our focus on spiral development and open architecture we will continue to develop advanced capabilities to support the UK and our allies in the years ahead."
The contract is expected to create and sustain jobs across a number of sites in the UK, within existing Elbit Systems UK facilities, a UK supply chain and on army locations. This adds to recent investments made in staff and facilities to support the continued delivery of a number of high-tech programs for the Armed Forces. This also demonstrates our ongoing support to the Land Industrial Strategy which focusses on ensuring the army receives the capabilities it requires and also drives opportunity for UK industry and the economy.
Manufacturers and suppliers of military armored vehicles, armored tactical vehicles and armored trucks for defense forces >>