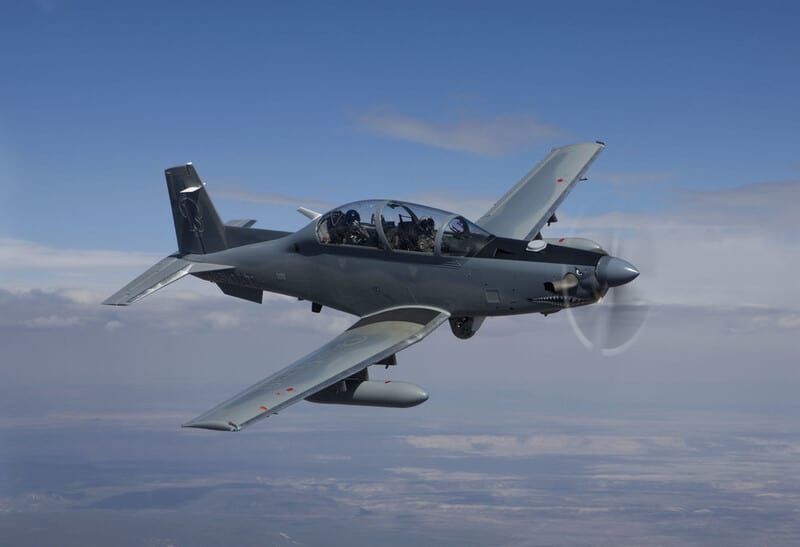 Textron Aviation Defense LLC has been awarded a contract to deliver eight Beechcraft AT-6 Wolverine aircraft to the Royal Thai Air Force (RTAF). The contract also covers ground support equipment, spare parts, training and other equipment.
The $143 million contract will see the company provide an Integrated System in support of the 41st Wing light attack operations at Chiang Mai Air Base.
The historic contract establishes Thailand as the international launch customer for the U.S. Air Force's latest light-attack and armed reconnaissance aircraft.
"We are honored the Royal Thai Air Force has competitively selected the Beechcraft AT-6 to conduct a broad array of missions in support of its border security and its anti-smuggling, counter-narcotics and anti-human trafficking operations," said Thomas Hammoor, president and chief executive officer of Textron Aviation Defense LLC.
"The RTAF is a key U.S. security ally and operator of one of the most advanced air forces in Asia Pacific. Its extensive market research and stringent procurement process sought the alignment of best cost, schedule, and performance to replace its existing fleet of aging Aero L-39 Albatros aircraft and advance the capabilities of its fleet with the latest technology."
Work under the contract will be carried out at the company's Wichita, Kansas facilities.
The contract for the AT-6 — designated the Beechcraft AT-6TH in Thailand — supports the modernization and interoperability objectives at the forefront of the mutual defense cooperation between the U.S. and Thailand. The contract also contributes to the growth of Thailand's aerospace industry detailed in the 10-year Royal Thai Air Force Purchase and Development (P&D) Plan, complies with requirements set forth by the Thai National Anti-Corruption Committee (ACC) and empowers RTAF light attack aircrew with a vital technological advantage.
"RTAF pilots and concerned parties found the attributes of the AT-6 procurement program extremely favorable," stated AM Pongsawat Jantasarn, RTAF's chairman of the procurement committee.
"It will also benefit both Thai and U.S. mutual interests, strengthening the enduring strategic partnership between our nations."
The contract signing aligns the procurement with the Thai government's S-Curve 11 strategy — a program that pioneers development of the Thai domestic defense industry, cultivates diversity and supports involvement across foreign and Thai companies.
The Beechcraft AT-6TH becomes the second RTAF procurement contracted in support of S-Curve 11. The first procurement under the new strategy was the Beechcraft T-6TH Texan II, awarded in 2020. The Ministry of Defense supports the S-Curve 11 strategy and the two procurements.
Textron Aviation Defense training of RTAF maintenance professionals is set to begin in Thailand in 2023, while pilot training is set to begin in Wichita in 2024. The Beechcraft AT-6TH will join the Royal Thai fleet in 2024.