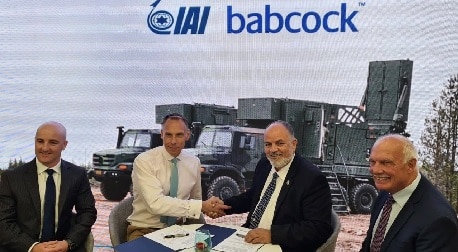 Babcock is collaborating with Israel Aerospace Industries (IAI) subsidiary ELTA Systems to provide a deep-find radar solution for the UK Ministry of Defence (MoD)'s SERPENS program.
SERPENS is the MoD's next generation weapon locating system with a digitally networked suite of sensor systems that detect hostile mortars, artillery and rockets.
This new collaboration will offer IAI-ELTA's battle-proven Compact Multi Mission Radar (C-MMR) system, which will be partly produced and integrated in the UK.
Implementing advanced 3D-active electronically-steered array antenna technology, C-MMR is designed for air defense and artillery weapon location missions, with the radar locating hostile weapon locations and calculating impact and launching points in real time.
The Memorandum of Understanding (MoU) between Babcock and IAI-ELTA will boost sovereign radar experience and expertise. It provides Babcock with the opportunity to further prove its system integration and through life support pedigree while also developing its radar assembly and maintenance expertise.
"We are delighted to announce our partnership with IAI-ELTA to provide a deep find radar solution for the UK Ministry of Defence's SERPENS program," said Dr Richard Drake, Babcock's Chief Technology Officer. "Babcock is proud to provide class-leading technology to our customers and with IAI-ELTA's battle proven C-MMR system, we have a capable, affordable and available solution."
"This agreement between IAI and Babcock demonstrates our commitment to the UK," said Ronald Cook, IAI UK Managing Director. "We are bringing together the brightest minds in the industry to combine world-class technology with our commitment to UK prosperity. We are proud to partner with one of the UK's finest companies in the industry to provide our cutting-edge C-MMR to the UK market."
Find suppliers & manufacturers of Weapons Locating & Counter Battery Radars >>