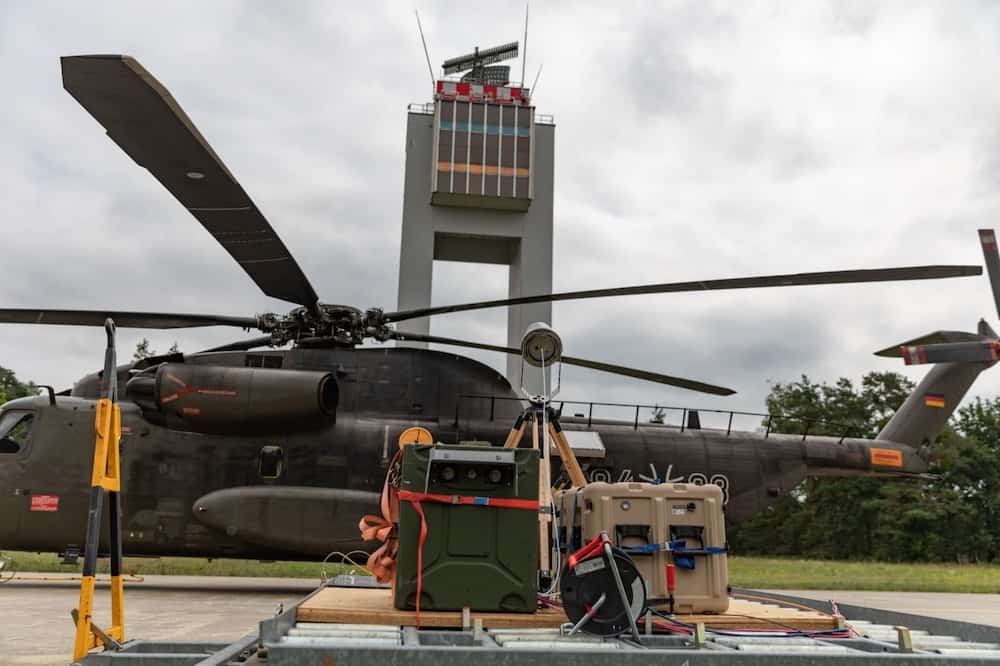 Rohde & Schwarz, together with ESG Elektroniksystem- und Logistik-GmbH and representatives of the German Armed Forces (Bundeswehr), has successfully carried out stationary tests on the premises of the Bundeswehr Technical Center for Aircraft and Aeronautical Equipment (WTD 61) in Manching. 
The influence of rotors on radio waves was tested on two types of helicopters operational with the Bundeswehr, the CH53 and Tiger, as well as on the rotary wing UMAT R-350 Unmanned Aerial Vehicle (UAV) from ESG.
Manned and unmanned rotary-wing aircraft of the Bundeswehr need to be able to send data links through one or more rotor planes, where interference can be caused by rotor blade modulation.
The successfully completed tests demonstrate how robust the radios are against level drops, phase shifts and diffraction at rotor blades' edges; while digital voice and data transmission was possible at the highest sensitivity. A comprehensive set of data was also collected to develop robust waveforms for broadband data transmission in the SHF frequency band.
"Equipping today's armed forces with secure, up-to-date solutions for radio networking is essential for command and control effectiveness during deployment," said Mathias Pauli, Vice President Secure Communications at Rohde & Schwarz.
"These tests, on behalf of the German Armed Forces, investigated the influence of rotors from different types of helicopters on radio links. We achieved the goal of proving the suitability of the existing VHF/UHF and 5 GHz radio systems for operational deployment."