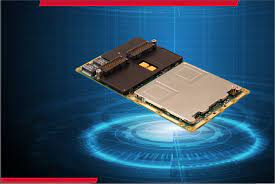 Curtiss-Wright Defense Solutions has been selected by a leading defense system integrator to provide its XMC-528 Mezzanine Card as a turnkey solution to add state-of-the art security protection to both legacy hardware and to new system designs.
The initial value of the award is $2.5 million, with a lifetime value estimated between $10-15 million.
"We are very proud to announce this security-focused production award for our innovative XMC-528 module, which was selected for its ability to rapidly and cost-effectively add security protection to any Curtiss-Wright or third-party module that supports an XMC site," said Chris Wiltsey, Senior Vice President and General Manager, Curtiss-Wright Defense Solutions. "The XMC-528 truly makes it simple and affordable to bring system integrity to hardware platforms, both legacy and new, with a powerful mezzanine card plug-in solution."
The enhanced TrustedCOTS (eTCOTS) XMC-528 module speeds the integration of advanced security IP, such as Raytheon Technologies' Night Cover product suite and Idaho Scientific's Immunity cryptographic products, into new and legacy systems wherever XMC (VITA 42/61) mezzanine cards can be used, including modules designed to align with the SOSA Technical standard and US Army's C5ISR/EW Modular Open Suite of Standards (CMOSS) technical standards.
The XMC-528 is a compelling security IP solution for a wide range of system architectures including ATCA, rackmount servers with PCIe slots, as well as VME and OpenVPX modules.
The module enables system integrators to add embedded security to fielded systems without a complete redesign. Using industry standard interfaces, the XMC-528 mezzanine card can be hosted on existing system modules – such as Curtiss-Wright's VME-1910, VPX6-1961, and SOSA-aligned VPX3-1260 single board computers – to implement advanced data protection. The same security IP suite provided by the XMC-528 mezzanine module can also be integrated directly into the on-board security FPGA resident on Curtiss-Wright's family of security-ready OpenVPX modules – such as the CHAMP-XD1S 3U digital signal processor card and soon to be announced next-generation processor modules. Systems such as high-performance rack-mount servers can be supported with an appropriate XMC carrier.