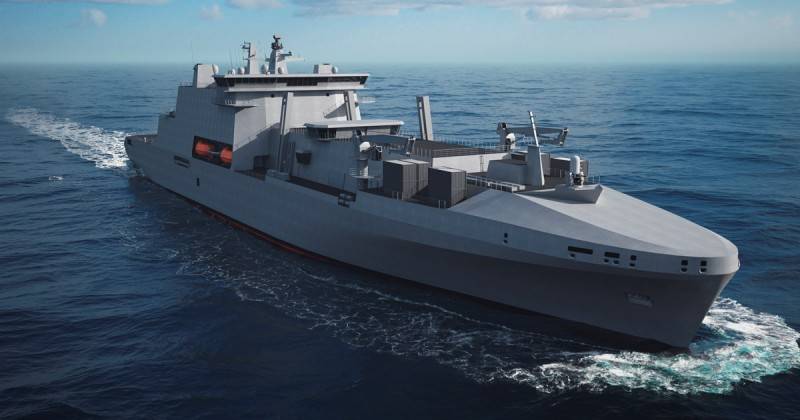 BMT has signed a subcontract with Navantia UK to formalize its role in delivering the £1.6 billion Fleet Solid Support (FSS) program.
Under the contract, BMT will be responsible for delivering critical design, through life support and training packages. For all three 216m long vessels for the Royal Fleet Auxillary (RFA), BMT will be providing functional design but also services that will ensure the ships can operate efficiently, safely, securely and in line with environmental requirements. This will include a fully consolidated through life support and training package, safety and environmental case reports and supporting the Ministry of Defense (MoD) in the ships security accreditation.
BMT believes the program is an important opportunity to bolster UK shipbuilding as set out in the 'National Ship Building Strategy Refresh'. Its expected to generate in excess of 500,000 hours of work for BMT in the UK that translates into over 120 jobs over 8 years. BMT's social value contribution will include jobs for graduates and apprentices helping to create the next generation of ship designers, safety engineers, cybersecurity specialists and ILS professionals.
BMT's work will also create in excess of £5 million of potential subcontracts for UK SMEs, further building the sector and UK skills base. According to BMT, the program will not only support development of the UK's sovereign defense capability in ship design and sustainment but also leave a positive and lasting legacy in communities and regions across the UK.
Sarah Kenny OBE, BMT Chief Executive, commented: "I am delighted and immensely proud that we have signed this contract with Navantia UK. It is an enormously important and prestigious program for the UK aligned to the ambition of the 'National Shipbuilding Strategy' and enabled by our capability to design and support next-generation naval platforms. It is also a strong endorsement of the talent and expertise of BMT's employees in world-class naval design and support for high value assets in the water. We have a long and successful design partnership with the Royal Navy and its legacy carrier strike programs. Now we look forward to working closely and seamlessly with our partners in Team Resolute to integrate the design aspects into FSS and ensure smooth production flows as we work towards production starting in 2025 and the vessels entering service by 2032. Our superior design will give the Royal Navy an essential next-generation capability and be a vital addition to its fleet."
Simon Gould, Managing Director and lead on the FSS program at BMT, added: "The formal signing of this contract is an important milestone in the program. The design is the FSS's 'crown jewel', being a key part of the capability of the new fleet, and an essential tool for Royal Navy in its globally-diverse operations to defend the U.K., her allies and her interests. In the months ahead, we look forward to deepening our relationship with our partners in Team Resolute, Navantia UK and Harland & Wolff, and we will continue to engage as a team in future phases of this program, as well as on other similar opportunities globally."