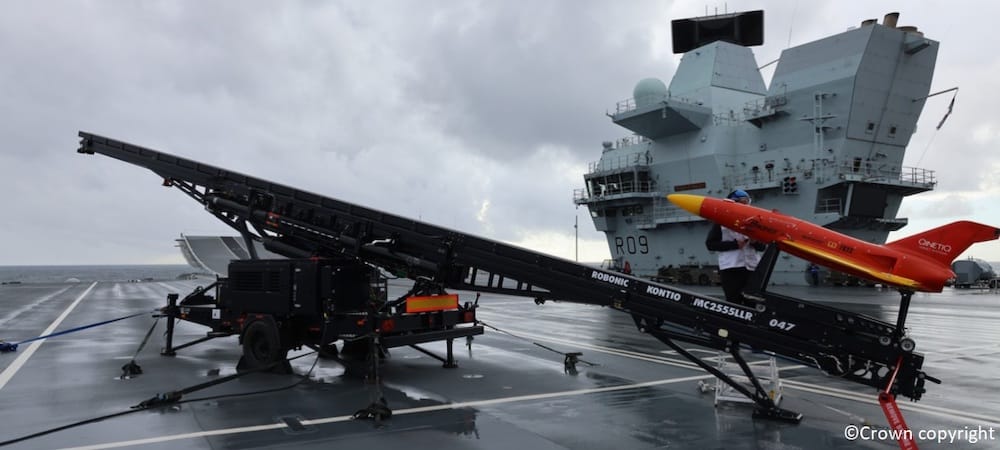 QinetiQ has been awarded a £1.5 million contract from the UK Royal Navy to trial the military effect of Banshee Jet80+ Unmanned Aerial Vehicles (UAVs) off HMS Prince of Wales.
This will take place later in 2022 as part of HMS Prince of Wales' first deployment off the East coast of the USA.
The company will provide its experimentation expertise and Banshee Jet80+ air vehicles to support the Royal Navy's future use of high-performance Unmanned Aerial Systems (UAS) in Carrier Strike Group operations.
The experimental trials, which are closely associated with the Navy's Vampire Phase 1 program, will test QinetiQ Target Systems' Banshees in training and Intelligence, Surveillance and Reconnaissance (ISR) scenarios, focusing on specific flight profiles and the optical recognition of assets to enable 'friend or foe' confirmation.
The Banshees provide the opportunity to rehearse operational procedures by emulating cruise missiles and enemy fast jets. With the addition of Electronic Warfare (EW) systems, the Banshee aims to not only stimulate the ship and aircraft radar systems, but also the threat warning systems, adding more depth and reality to the training that can be delivered. This will also demonstrate the potential use of Banshee in a decoy role.
In the ISR role, Banshee hopes to prove its capability to deliver rapid visual identification of radar contacts to allow classification of threats. Integration of the MAPLE command and control software will demonstrate the ability to rapidly integrate this and a wider range of payloads delivering essential information to the warfighter.
"The continued partnership with QinetiQ on Project Vampire is invaluable to support the evidence gathering as to how such capabilities can grow the lethality of our aircraft carriers," said Colonel Phil Kelly RM, Head of Carrier Strike & Maritime Aviation, Royal Navy. "These trials will see us using Banshee aircraft in sample ISR scenarios, a role that could be delivered rapidly in the operating environment. It will also show how Vampire can deliver our training needs to better prepare for realistic threats, ensuring that our training continues to remain close to real-life situations."

Simon Cooper, Business Development Director UK Defence at QinetiQ, added: "Our participation in these important trials and the associated Vampire Phase 1 program demonstrates the operational relevance of Banshee and QinetiQ's ability to deliver pertinent operational training and experimentation outcomes for the Royal Navy. We're incredibly proud of our partnership with the Navy and the opportunity to continue supporting them on their journey towards the Future Maritime Aviation Force."