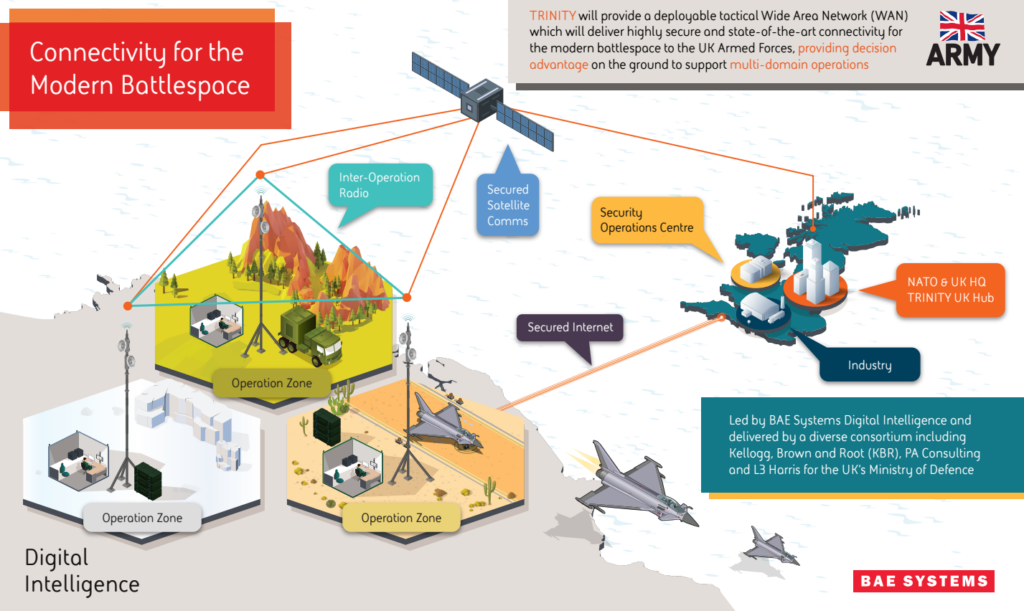 BAE Systems has received an £89 million contract from the Ministry of Defence (MoD) to develop a deployable tactical Wide Area Network (WAN), known as Trinity.
The new five-year contract will see BAE lead a consortium of trusted partners, including Kellogg, Brown and Root (KBR), PA Consulting and L3Harris, to design and manufacture Trinity.
This will deliver a highly-secure and state-of-the-art battlefield internet capability to UK forces which will sustain battlefield awareness and intelligence sharing through a myriad of adversarial attacks.
Trinity's resilience is based on its composition. It is made up of a series of nodes, each able to add, access and move data in a secure network. If a number of nodes are damaged in warfare, the rest automatically reroute to maintain optimum network speed and flow of information, making it highly effective.
The contract will directly support 60 jobs based in Dorset and will see further investment in UK skills at BAE Systems, its partners and across the supporting supply chain.
BAE Systems will combine its defense communications expertise to develop, deliver and deploy world-leading network capabilities using the full spectrum of communications infrastructure to avoid being solely reliant on satellites or fixed infrastructure which are often targeted by adversaries.
David Armstrong, Group Managing Director at BAE Systems' Digital Intelligence business, said: "In an increasingly complex and fast-paced threat landscape, Trinity will empower the UK Armed Forces with a better view of what is happening, enabling them to make swift, informed decisions when and where it matters most. By providing this advantage to front-line decision makers, Trinity reinforces our commitment to equipping the British military with the right tools to stay ahead in an ever-evolving battlespace."
Minister for the Armed Forces, James Heappey MP, added: "In this continually evolving, multi-domain environment it is vital that our personnel have access to world-leading communications capabilities while on operations. We remain committed to working closely with the best of British industry as they support our endeavor to better connect with our allies and their assets in theater."