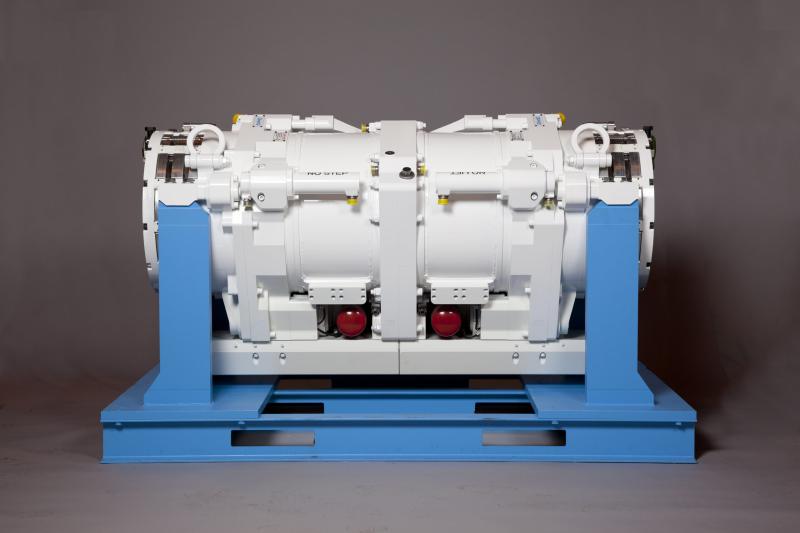 UK-based brake and clutch company Alcon Components Ltd, has completed delivery of a bespoke braking system for QinetiQ's Modular E-X-Drive (M-E-X-Drive) electric tracked vehicle propulsion system and QinetiQ hub drives.
Working closely with QinetiQ, Alcon production engineered an innovative braking solution that incorporates features that will overcome the unique challenges faced by an electric propulsion system of this type.
The braking solution is an innovative design with the brake being embedded in the transmission assembly. The potential high temperatures are mitigated by the use of a water-cooling system in the brake assembly. The brake housings were machined at Alcon's high precision machining facility in Northampton and assembled at their main site in Tamworth. Assemblies were validated on one of Alcon's dynamometers in Tamworth, that was adapted to include the water-cooling system. The project timings were tight and Alcon's project, design, production and test engineers worked closely with QinetiQ on a solution that needed to meet the needs of a constantly evolving overall system design.
As part of an electric tracked vehicle propulsion system, QinetiQ's Modular E-X-Drive offers a lighter, more compact and efficient solution compared with conventional mechanical transmission systems. Combining electrical and mechanical components in a novel configuration that is efficiently packaged, M-E-X-Drive incorporates mechanical regenerative transfer of steering power, range-shift mechanisms, and permanent magnet motor technology.
As a demonstrated low-risk solution, using M-E-X-Drive as part of an electric propulsion system offers the opportunity for innovative tracked vehicle configurations founded on a fundamental shift in platform design trade space options. An M-E-X-Drive-based transmission package is smaller and lighter than comparable conventional transmissions, and it also lends itself to novel vehicle layouts to improve survivability, agility, and mission success.
"It was a superb delivery from my point of view from Alcon," said Steven Goldsack, Senior Program Manager at QinetiQ. "The braking requirements of our system were incredibly unique and demanded fresh thinking and innovation to achieve production. Alcon's engineers worked closely with my team to produce our unique solution that has completely met our requirements."
"We're very proud of the braking solution we've delivered to QinetiQ on the M-E-X-Drive program. It's quite unique and has required our production engineers to look at things differently in order to help QinetiQ solve the complex problems of braking such a tracked vehicle electric drive system," said Jonathan Edwards, Group Sales Director at Alcon. "This is yet another example of Alcon working together with defense sector OEMs to help solve complex problems. As a result, we're fast becoming the bespoke braking partner of choice across the defense vehicle community where we're working on projects ranging from 3.5t armored SUVs to 35t+ 8×8 fighting vehicles."