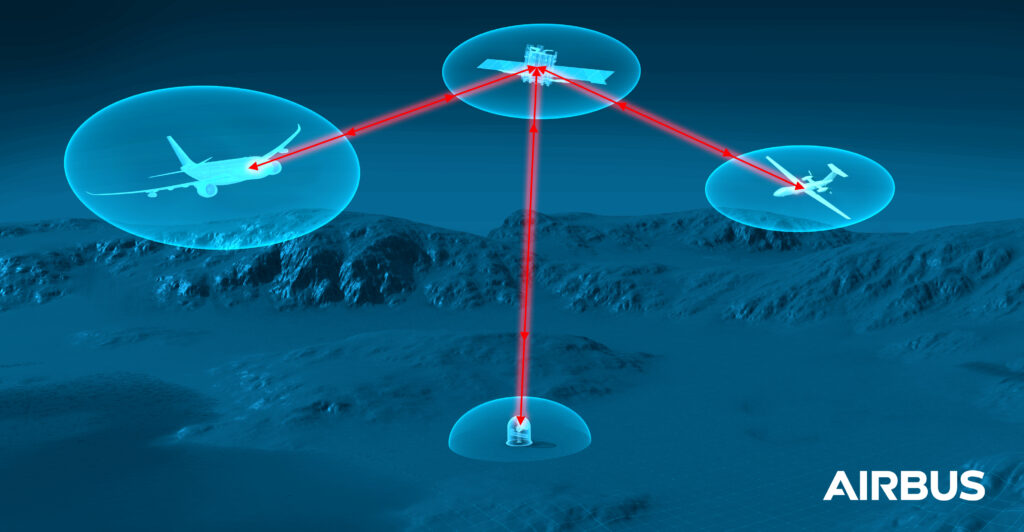 Airbus and VDL Group have signed a partnership agreement for the development and manufacturing of a laser communication terminal for aircraft, known as UltraAir, with the two companies preparing a demonstration of a prototype and a first flight test in 2024.
In 2024, Airbus and VDL will further industralize the prototype in order to make it ready for integration with a hosting aircraft. VDL is expected to bring design for production to the partnership and will manufacture critical systems. A flight test of this industrialized prototype is planned in 2025.
According to Airbus, UltraAir will enable the exchange of large amounts of data using laser beams in a network of ground stations and satellites in geostationary orbit at 36,000 km above the earth. With technology including a highly stable and precise optical mechatronic system, this laser terminal is expected to pave the way for data transmission rates that could reach several gigabits-per-second while providing anti-jamming and low probability of interception.
In this way, UltraAir will allow military aircraft and UAVs (Unmanned Aerial Vehicles) to connect within a multi-domain combat cloud via laser-based satellite constellations such as Airbus' SpaceDataHighway. This is believed to be a key milestone in the roadmap of Airbus' overall strategy to drive laser communications further, which will bring forward the benefits of this technology as a key differentiator for providing multi-domain combat collaboration for government and defense customers. In the longer term, UltraAir could also be implemented on commercial aircraft to allow airline passengers to establish high-speed data connections.
Laser communication is believed to bring 1,000 times more data, 10 times faster than the current network. Laser links also have the benefit of avoiding interference and detection, as compared to already-crowded radio frequencies they are extremely difficult to intercept due to a much narrower beam. Thus, laser terminals can be lighter, consume less power and offer better security than radio.
Co-financed by Airbus and VDL Group, the UltraAir project is also supported by the ESA ScyLight (Secure and Laser Communication Technology) program and by the NxtGen Hightech program, as part of the Dutch Growth Fund, led by TNO and a large group of Dutch companies.