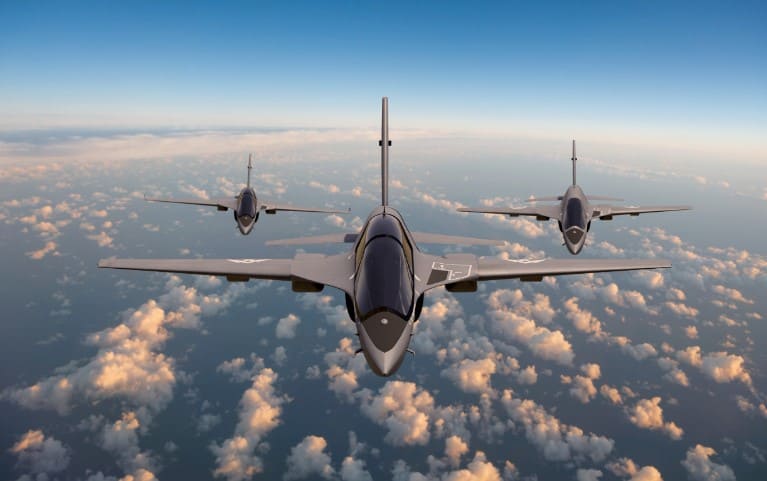 British military jet developer Aeralis has signed a Memorandum of Understanding (MoU) with AirTanker to assess upcoming contracts in military flying training, defense operational training and combat air support roles.
Together, Aeralis and AirTanker will examine models with the capability to transform the full spectrum of fast jet pilot training, enhancing efficiency throughout the training pipeline and ensuring customers receive the scale and quality of aircrew required to operate frontline combat air systems.
According to Aeralis, the MoU covers a range of services that AirTanker can offer, such as collaboration with overseas partners, and establishing local service provision. The MoU will also involve the sharing of information and regular progress updates, as well as joint workshops to explore future collaboration opportunities. The agreement will use the Aeralis program to achieve significantly lower financing, acquisition and operating costs for aircraft compared to incumbents, expected to pave the way for enabling a wide range of 'on-demand' operational air support services as part of the future of air force fleets.
According to Aeralis, the company has signed partnerships with several companies, building towards the ultimate delivery of the aircraft, including Thales, Atkins, Siemens, Martin-Baker and Hamble Aerostructures. Aeralis also signed an MoU with Rolls-Royce to explore initial and future options to meet the company's propulsion requirements, and opened its first facility, the Aeralis Enterprise Hub, in the Bristol Defense & Aerospace cluster earlier this year.
AirTanker's CEO Phill Blundell said: "We are excited to be collaborating with the Aeralis team on this transformative program and bring our expertise of supporting and delivering complex military operating solutions into the project at this developmental stage."
Aeralis founder & CEO, Tristan Crawford, commented: "Aeralis are delighted to have signed this Memorandum of Understanding with AirTanker, marking an important step in Aeralis going to market not only with a transformation aircraft system but also with a disruptive aircraft service offering. In the coming years this will have the potential to transform the operating economics of defence light jet aviation, releasing sorely needed capacity and capability for military customers across a number of domains."