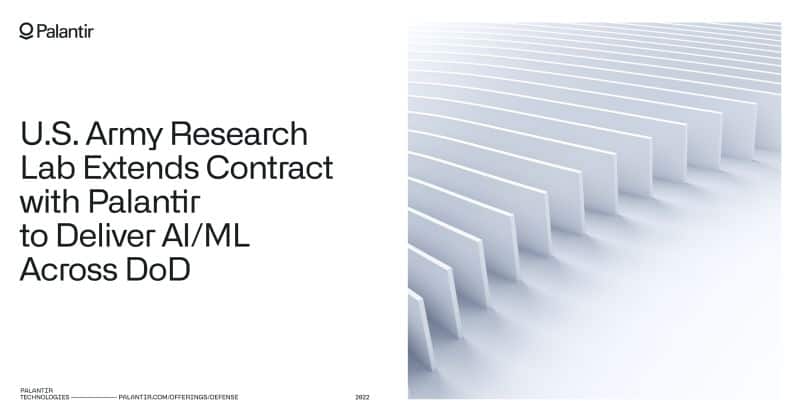 The US Army Research Laboratory (ARL) will extend its work with Palantir Technologies to support all branches of the Armed Services, Joint Staff, and Special Forces as they test, utilize, and scale Artificial Intelligence (AI) and Machine Learning (ML) capabilities across the Department of Defense (DoD). 
Palantir's software will continue to support warfighters, the data science community, and commercial AI companies across all facets of AI/ML research and development within the DoD.
This contract extension, worth up to $229 million over one year, will enable the DoD to scale these critical capabilities to additional mission areas as well as emerging priorities.
"By bringing leading AI/ML capabilities to all members of the Armed Services, the Department of Defense continues to maintain a leading edge through technology and by delivering best-in-class software to those on the frontlines," said Akash Jain, President of Palantir USG. "We are proud to partner with the Army Research Lab to deliver on their critical mission to support our nation's armed forces."
Palantir's open data standard architecture is designed to help the warfighter test and evaluate the latest advances in AI/ML in some of the most critical operational environments. Integrating with partner vendors and collaborating with users on the front lines, Palantir's software platforms will continue to implement advanced AI capabilities and deliver solutions in an agile manner.
"Our work with ARL has enabled users in the field to accelerate the use of AI/ML in support of some of the most critical national security challenges our country and our allies are facing today," said Shannon Clark, Senior Vice President of Innovation, Federal.