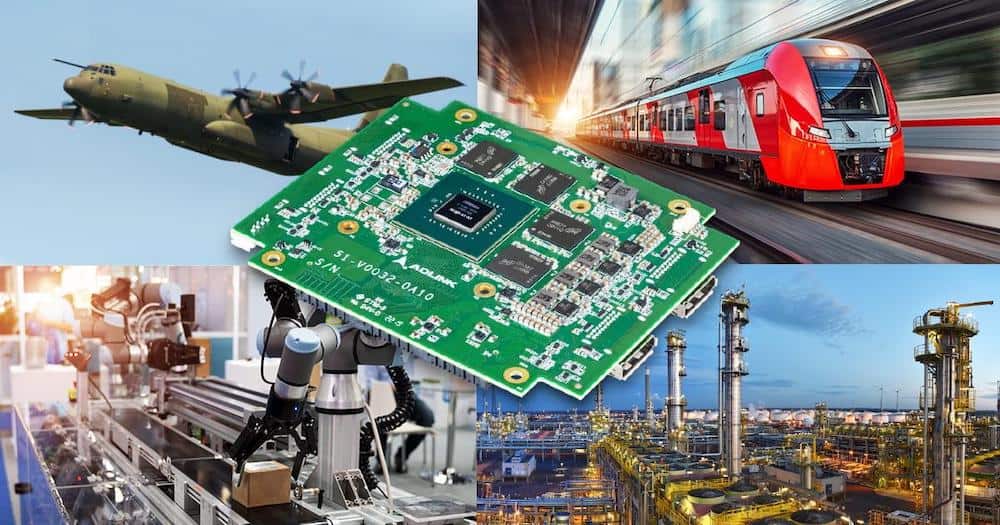 ADLINK Technology Inc. has launched the first COTS PC/104 module that features an NVIDIA Quadro P1000 graphics processing unit (GPU). The CM5-P1000 module is targeted at demanding mission-critical video/imaging analysis applications for aerospace, defense and industrial automation.
The NVIDIA Quadro P1000 GPU gives the CM5-P1000 module access to 640 CUDA cores and enables 1.8 teraFLOPS performance levels. With 4 GB of GDDR5 memory embedded, it has a 128-bit memory width and delivers a 96 GB/s maximum bandwidth. Supplied in a PCIe/104 Type 1 format measuring 116 mm x 96 mm, the module addresses size, weight and power (SWaP) restrictions.
The CM5-P1000 incorporates 4 ultra-high definition DisplayPort outputs, along with a 16 lane PCIe Gen3 bus. It can run on either Windows 10 or 64-bit Linux operating systems.
"Engineers serving the aerospace and defense sector need access to embedded technology that offers a combination of elevated performance, small form factor and ongoing reliability. Long-term supply chain continuity must also be totally assured," stated Eric Kao, General Manager of ADLINK's Networking, Communication & Public Sector business unit.
"The CM5-P1000 gives our customers the inherent design flexibility of a modular approach, plus exceptional degrees of ruggedness. In addition, this module underlines the continued importance that ADLINK sees in PC/104 and our lasting commitment to this format."
The CM5-P1000 module has been designed to maintain uptime in challenging working environments. An operational temperature range spanning from -40 °C to +85 °C is supported and humidity levels of 96% can be withstood. The module can also cope with exposure to high altitudes, shocks, and vibrations.