Event
Security and Defence 2022
September 28-29, 2022
United Kingdom
Key Details
Dates:

September 28-29, 2022
Venue:

London, United Kingdom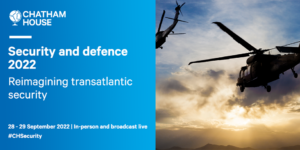 About Security and Defence 2022
Reimagining transatlantic security
28 – 29 September 2022 | Chatham House, London and Online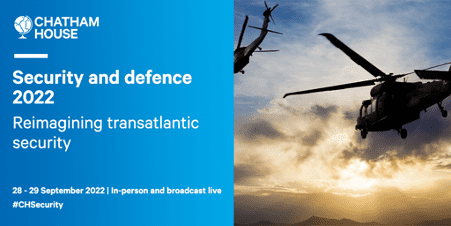 Chatham House will hold its annual Security and defence conference in Chatham House, located in the heart of London, and will also welcome an online audience through its LIVE virtual event platform.
Russia's invasion of Ukraine has upended the post-Cold War transatlantic order. European countries have been forced to re-evaluate the security of their neighbourhood. Meanwhile, the crisis has compelled the US to reconsider its role in Europe, in the context of a broader pivot towards Asia.
This conference will focus on how NATO nations and their allies should adapt to meet the threat of an unpredictable security environment.
Taking place across two days from 28-29 September, register now to connect with leading policy, industry and military experts for this unique knowledge and networking conference.
In-person access: 25% discount for Defense Advancement's network using code SECDEFDA25
Digital-only access: Complimentary for Defense Advancement's network using code SECDEFDA22
More Information and Registration
To learn more about Security and Defence 2022, to register to attend or exhibit, please click below.