Event
Future Soldier Technology 2022
March 7-9, 2022
United Kingdom
Key Details
Dates:

March 7-9, 2022
Venue:

London, United Kingdom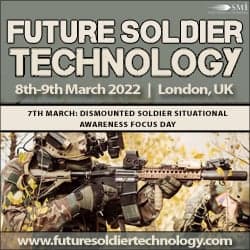 About Future Soldier Technology 2022
Building on the huge success of its seven previous years, SMi Group's Future Soldier Technology Conference will return to London on 8th and 9th March 2022, to explore soldier modernisation programmes, and how these projects are driving infantry capabilities into the future and making the dismounted soldier more lethal, protected, and ready to fight in the challenging conditions of the modern-day battlefield.
Plus, don't miss out on the exclusive Pre-Conference Focus Day on Dismounted Soldier Situational Awareness – exploring how technologies such as mobile deployable communications, blue force tracking, command & control networks, and innovative immersive technologies and displays are assisting the warfighter.
Key topics include:
Survivability, lethality, mobility, situational awareness, power management and C4I
Human factors around new technologies, including ergonomics, carry distribution, new materials, durability, and tools used to operate in extreme weather conditions
Updates on future soldier programmes including: Future Soldier, FELIN, Sistemas de Combate do Soldado, ISSP, Land 125, STRONG/VOSS, NATO LCG DSS, and more
As the world's leading meeting exclusively focused on enhancing dismounted soldier technology, Future Soldier Technology 2022 will gather operational users, capability development directors, and industry professionals, from across the globe to share their current requirements and experiences in equipment modernisation and offer an attractive networking space to foster new working relationships.
More Information and Registration
To learn more about Future Soldier Technology 2022, to register to attend or exhibit, please click below.