Event
Military Robotics and Autonomous Systems 2022
April 6-7, 2022
United Kingdom
Key Details
Dates:

April 6-7, 2022
Venue:

London, United Kingdom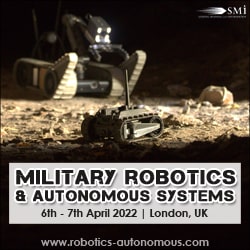 About Military Robotics and Autonomous Systems 2022
Robotics is becoming increasingly important in military discussions about force generation, force planning and future acquisition, so it is critical for military leaders and industry experts to understand the rapidly expanding role of military robots within the modern battlespace.
Building on the huge success of its four previous years, the Military Robotics and Autonomous Systems Conference will return to London, on 6th and 7th April 2022 to further focus on the UK MoD's five priorities in the development of robotics and autonomous systems (RAS): situational awareness, lethality, manoeuvrability, survivability, and sustainability.
Highlights for 2022:
The only international event with a dedicated focus on military land robotics
New for 2022: An emphasis on Unmanned Combat Vehicles, Enhancing Autonomous Capabilities and Battlefield Manned/Unmanned Teaming; new speakers from the UK, France, Germany, Switzerland, Estonia, Finland, Czech Republic, Israel, India, Australia, and New Zealand
Take advantage of our unique platform which enables the advancement of robotics and autonomous technologies, bringing together those at the heart of systems operation, training, development, and integration
Hear about the latest trends, programmes, products and strategies of RAS technology and witness how this dynamic military field is shaping the course of warfighting today
Early Bird Offer: Book by 28th February 2022 to SAVE £100
More Information and Registration
To learn more about Military Robotics and Autonomous Systems 2022, to register to attend or exhibit, please click below.