Event
Maritime Reconnaissance & Surveillance Technology
February 2-3, 2022
United Kingdom
Key Details
Dates:

February 2-3, 2022
Venue:

London, United Kingdom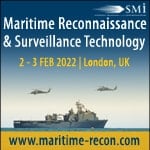 About Maritime Reconnaissance & Surveillance Technology
With rapid technological advances changing the way maritime forces need to utilise and manage ISR capabilities across domains, Maritime and Littoral Reconnaissance and Surveillance systems and platforms have become a critical component of naval capability.
SMi Group are delighted to announce the return of the 7th Annual Maritime Reconnaissance and Surveillance Technology Conference, taking place on the 2nd and 3rd February 2022. This year, with the geographical shift comes a subtle strategic one, providing a renewed focus on some of the strategic threats and technological challenges facing naval and joint forces from across the world.
Platforms and topics discussed include: Space based ISR, Airborne Platforms & Operations, C4ISTAR, Unmanned Maritime Systems, Hydrographic platforms and many more…
As the only Maritime ISR event with a specific focus on Space-Based Domain Awareness, Maritime Reconnaissance and Surveillance Technology 2022 follows six very successful predecessors. With the previous events taking place in Rome, the event has brought forward a discussion on the growing need for more comprehensive and sophisticated Joint Maritime ISR capabilities in the Mediterranean and beyond, particularly following the Migrant Crisis that remains.
More Information and Registration
To learn more about Maritime Reconnaissance & Surveillance Technology, to register to attend or exhibit, please click below.