Event
Global MilSatCom 2021
November 2-4, 2021
United Kingdom
Key Details
Dates:

November 2-4, 2021
Venue:

London, United Kingdom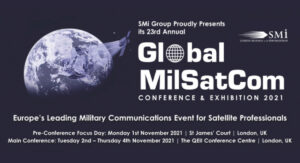 About Global MilSatCom 2021
The SMi Group are proud to announce that the 23rd annual Global MilSatCom Conference & Exhibition will return on 2nd – 4th November 2021 in London, UK, with a Disruptive Technology Focus Day on 1st November. Hailed as one of the most important gatherings in the world for the military SATCOM community, Global MilSatCom 2021 will once again be an unmissable event as MILSATCOM takes on a new level of importance in global conflict.
Global MilSatCom is one of the world's leading events on military SATCOM and draws in 500+, truly global representatives from the military, industry, government, and research to create an event that is not to be missed.
The MILSATCOM community finds itself at an inflection point: superiority and safety in the space domain has mostly been a given for NATO-allied militaries; technology to enhance interoperability has, overall, been underemphasized and underdeveloped; and a commander's operational SATCOM capabilities have rarely been impeded by hostile actions. Nowadays, however, a radically different picture has emerged: the space domain is becoming very competitive as near-peer adversaries challenge the status quo; it is becoming increasingly apparent through the re-emergence of near-peer threats that every segment of a SATCOM system must be more interoperable to enable better communications in coalition; and both near-peer and irregular adversaries are frequently demonstrating their ability to impede effective communications on the battlefield.
Global MilSatCom 2021 aims to respond to these challenges. With briefings from senior officials from the world's leading militaries and solution providers, discussions on key issues such as international SATCOM architectural convergence and flexibility of ground terminals, attendance from every significant MILSATCOM program, dedicated exhibition halls, and a whole day on disruptive technology in space, Global MilSatCom will shape the way ahead and provide an unrivalled opportunity for collaboration and partnership.
Day 1 will begin by focusing on the UK's SKYNET programme and will continue with updates and briefings from key European allies. Day 2 will be centred on innovation and change within the US space enterprise. Large focuses will be on the Integrated SATCOM Enterprise vision, JADC2, and partnerships with industry and international allies. Finally, day 3 will centre around key international partner updates which will provide further opportunities for partnerships and situational awareness of global MILSATCOM efforts.
Attend the conference to benefit from exclusive updates, insights, and discussions with the pre-eminent names in the world of SATCOM.
Meet and network with leaders in SATCOM from industry, military and government across three days, including dedicated networking breaks, dinners, drinks receptions, and more!
Hear updates and guidance from world-leading SATCOM programme managers and decision-makers
Delve into the latest topics and trends shaping the future of MILSATCOM
Discover cutting-edge SATCOM technology to enhance operational effectiveness
Make new connections, contacts and partnerships from Global MilSatCom's international audience
More Information and Registration
To learn more about Global MilSatCom 2021, to register to attend or exhibit, please click below.