Event
Future Armoured Vehicles Survivability 2021
November 16-17, 2021
United Kingdom
Key Details
Dates:

November 16-17, 2021
Venue:

London, United Kingdom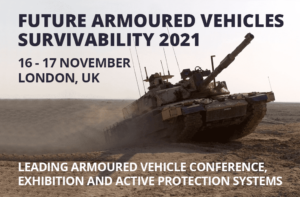 About Future Armoured Vehicles Survivability 2021
SMi's 6th annual Future Armoured Vehicles Survivability Conference will return to London on the 16th and 17th November 2021.
As the only armoured vehicle conference dedicated to the area of survivability, the 2021 event will gather programme managers, capability directors, commanders from the military, senior engineers, chief scientists and platform managers from leading solution providers to discuss what nations are doing to protect their armoured vehicles and personnel.
The two-day conference will aim to further address all layers of the survivability spectrum including:
Armour
Situational Awareness
Concealment
Signature Management
IED Protection Systems
CBRN
Mine Resistance
Armour material technologies
Stealth
Active Protection Systems
Unlike any other event, the survivability conference is a meeting for the international armoured vehicle community designed around a series of focused discussions on the strategies and technologies being adopted to enhance crew and platform survivability. As seen in recent operations, threats to the vehicle are increasing in both scope and size. Traditional lightly armed combatants now have access to an increasing array of lethal anti-armour capabilities. With the continued proliferation of advanced anti-tank weaponry around the world, and as armed forces pivot to addressing near-peer adversaries, armored vehicle survivability remains as important as it ever has been.
This conference is a focused study on how to enhance survivability and addresses all layers of the survivability spectrum. Key capabilities that will be covered are signature management, situational awareness, armoured and blast protection, C-IED, vehicle obscuration systems, and an overall picture of integrated survivability.
Why attend?
Hear the latest survivability updates from the current and future armoured vehicles that will drive manoeuvre options for years to come
This will include platform specific briefs on the: Boxer, Challenger II, CV90, Ajax, Puma, and more
Benefit from briefings on armoured vehicles defensive capabilities, bringing together those at the heart of systems operation, training, development and integration
Gain an update on strategic partners' respective armoured vehicle programmes
Benefit from this platform to advance armoured vehicles active defense capabilities and network with those at the heart of protective technology design, development, and integration
Discuss key requirements for the countering of threats during contemporary/future operations such as IEDs, UAS, EW, ballistic threats, antitank guided missiles to name a few!
More Information and Registration
To learn more about Future Armoured Vehicles Survivability 2021, to register to attend or exhibit, please click below.