Event
Counter UAS Technology Europe 2023
April 19-20, 2023
United Kingdom
Key Details
Dates:

April 19-20, 2023
Venue:

London, United Kingdom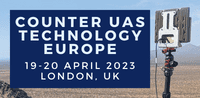 About Counter UAS Technology Europe 2023
Building from our sell-out Unmanned Systems conference portfolio, which includes the industry-leading Counter UAS Technology USA conference, we are delighted to introduce the newest addition to our portfolio – Counter UAS Technology Europe 2023. This two-day meeting will take place in London, UK, a fantastic city to hold a meeting of C-UAS professionals from around Europe and the rest of the world.
Why should you attend?
With the growing proliferation of small drones and UAS technology, European armed forces and security agencies are seeking to protect critical national infrastructure at home and also forward deployed personnel operating abroad. The European Counter UAS market is constantly growing with new programmes and projects announced. Therefore, there has never been a more important time for European C-UAS stakeholders to meet and network at Counter UAS Technology Europe 2023.
Conference Highlights:
Hear the latest updates on emerging C-UAS technologies from European Senior Leadership and Military Programme Managers
Network with international speakers from NATO and allied nations to learn more about their current air defence strategy
Discover innovative technology improving defence capabilities to counter drone swarms and UAS attacks
Listen to comprehensive briefings delivered by key European and North American speakers, including the UK MoD, the Dstl, NATO, the European Commission, U.S. Air Forces Europe, the U.S. DEVCOM Aviation & Missile Center, and a range of European frontline military organisations
Whether you want to hear from leading counter UAS programme managers, technical officers involved in air and missile defence, electronic warfare specialists, targeting and C2 specialists, or commanders leading force protection operations, Counter UAS Technology Europe 2023 is the only place where you can return to your offices with a set of strategies and solutions to advance your future C-UAS capability.
Counter UAS Technology Europe 2023 Dates 
19th – 20th April 2023
Early Bird Offer:
Book by 28 February 2023 to save £100
More Information and Registration
To learn more about Counter UAS Technology Europe 2023, to register to attend or exhibit, please click below.