Event
Community Police Dialogue Session
October 20-20, 2022
United Arab Emirates
Key Details
Dates:

October 20-20, 2022
Venue:

Madinat Jumeirah Hotel, Dubai, United Arab Emirates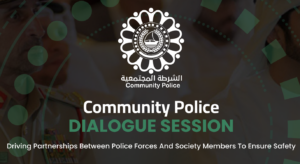 About Community Police Dialogue Session
Community policing plays a crucial role in ensuring security and maintaining a stable environment for economic growth and prosperity. Through strong partnerships and collaboration with community key persons and active groups, Dubai police forces can gather valuable insights and proactively prevent imminent threats that can affect individuals and businesses.
Dubai Police is hosting a Community Police Dialogue Session, on 20th October 2022 in Dubai, United Arab Emirates, to provide a platform to discuss community-oriented policing strategies and solutions and its role in enhancing the public safety and security. The conference will gather Dubai police chiefs and senior officers, heads of security from key communities, including residential, educational establishments, commercial and entertainment communities (shopping malls and amusement parks, free zones, …etc), and technology experts to share knowledge on the best strategies to effectively strengthen security through partnerships between Dubai police forces and society members.
Join us in the Community Police Dialogue Session to hear directly from police chiefs and senior officers, key industry leaders, and international security experts and discuss with your local and international peers the future of community policing and shape its development.
More Information and Registration
To learn more about Community Police Dialogue Session, to register to attend or exhibit, please click below.